For Brady, facing Giants could bring back bad memories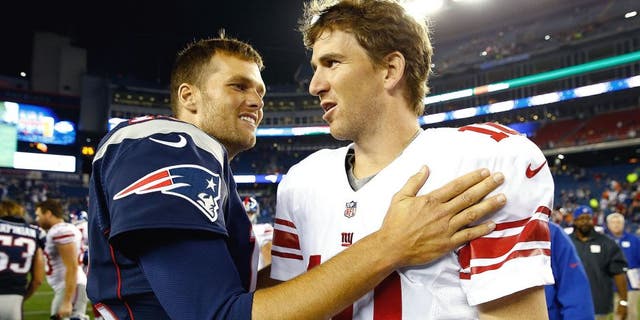 FOXBORO, MA - AUGUST 29: Tom Brady #12 of the New England Patriots talks to Eli Manning #10 of the New York Giants following their preseason game at Gillette Stadium on August 29, 2013 in Foxboro, Massachusetts. (Photo by Jared Wickerham/Getty Images) Jared Wickerham Getty Images
Here's the closest Tom Brady will come to admitting that two Super Bowl losses to the New York Giants still bother him: ''I'd much rather have won them than lost them.''
The Patriots quarterback dismissed questions about whether his losses to the Giants in the two NFL title games - the only two Super Bowls he has lost - still weigh on his mind.
New England (8-0) plays the Giants (5-4) on Sunday for the first time since New York won the 2012 Super Bowl 21-17.
Asked if the sight of the Giants ''disgusts'' him, Brady went into a roundabout answer about how they are a good team and the games have been close. Then he conceded: ''We just haven't won as many of them as I would've liked to have won.''
The Giants are one of two NFL teams to have an overall winning record against Brady, largely on the strength of their Super Bowl victories in 2008 and `12. Including the postseason, they have faced Brady five times and won three of them. (Denver has won seven of 13.)
But the losses to the Giants weren't just regular losses.
New York beat New England in the Super Bowl after the Patriots won their first 18 regular-season and playoff games in the 2007 season. Brady led New England to the go-ahead touchdown with about 5 minutes left, but the Giants took the lead after David Tyree caught a pass by pinning the ball against his helmet.
That spoiled the Patriots' chances for the NFL's first 19-0 season. The Patriots returned to the Super Bowl again after the 2011 season, and again the Giants beat them, extending New England's championship mini-drought from 2004 until last season's victory over Seattle.
''I'd much rather have won them than lost them, but they won't have any bearing on this week or what the matchups are,'' Brady said. ''There's just a lot of history with the team.''
The Patriots are the defending Super Bowl champions, and they are again undefeated as they come off a summer spent defending themselves from the league's ''Deflategate'' investigation.
Giants coach Tom Coughlin said he might remind his team of its past success against the Patriots, but he isn't counting on it to stop them.
''It's a new year, new scheme, it's a new team, all of those things,'' he said. ''You might mention it, but as I said, it's a whole new ballgame.''
---
AP NFL website: www.pro32.ap.org and www.twitter.com/AP-NFL