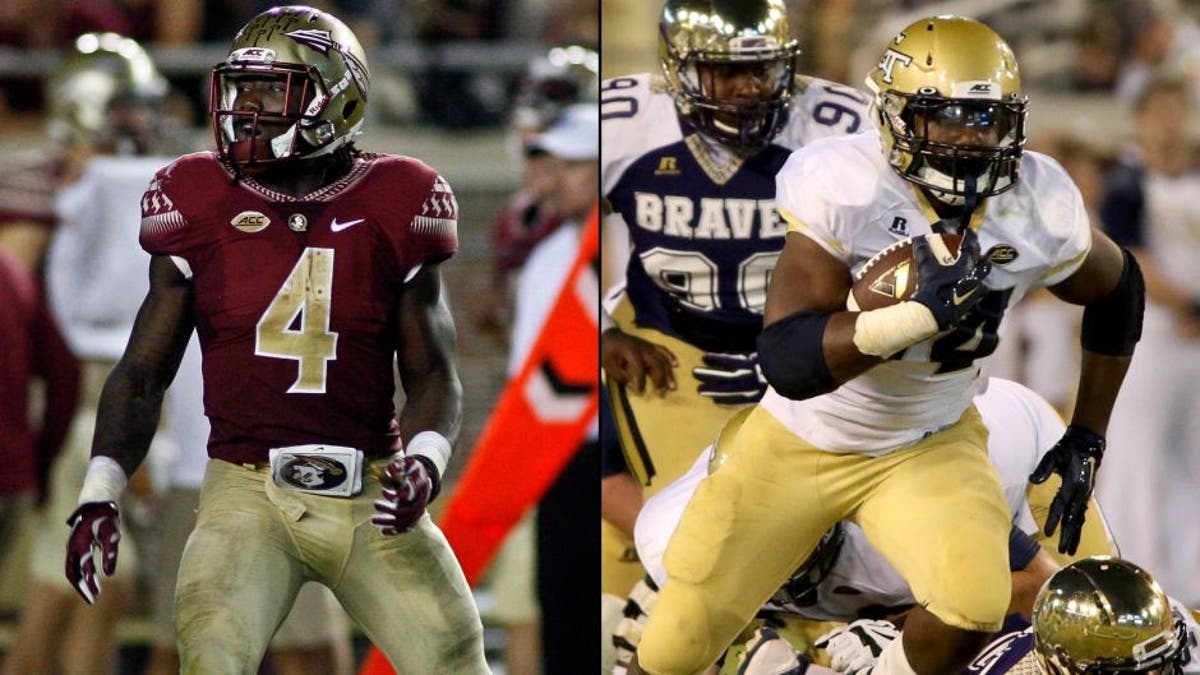 ATLANTA (AP) -- So much for that rebuilding season at Florida State.
Even with some closer-than-expected wins, the No. 9 Seminoles are right in the thick of the playoff race heading into Saturday night's game against Georgia Tech.
"That's our job as coaches: to get them to be as good as they can be," coach Jimbo Fisher said. "I think we can be a heck of a football team, I really do. We have all the things in place. We just have to play well and understand that and take advantage of the opportunities."
Sounds familiar.
In 2010, Fisher took over a once-mighty program that had fallen on hard times in Bobby Bowden's final years. The new coach quickly rebuilt the Seminoles into the consistent powerhouse they had been through most of Bowden's tenure, winning the national title two seasons ago and earning a spot in the inaugural College Football Playoff.
Some slippage was expected after Florida State lost 11 players in the NFL draft -- including the top overall pick, quarterback Jameis Winston.
Indeed, the Seminoles (6-0, 4-0 Atlantic Coast Conference) struggled a bit in victories over Boston College (14-0), Wake Forest (24-16) and Miami (29-24). But they keep on winning, improving to 45-3 over the last 3 1-2 seasons.
This team is centered on Dalvin Cook, who already has rushed for 955 yards and 10 touchdowns. The sophomore established an ACC record for the most running yards through the first six games and is set to join Warrick Dunn as the only backs in Florida State history to eclipse 1,000 yards in more than one season.
"If he's not the best back I've seen," Georgia Tech coach Paul Johnson said, "it's a really short line ahead of him."
Georgia Tech (2-5, 0-4) hardly looks like the sort of team that can derail the Seminoles, unless they're caught looking ahead a bit to a Nov. 7 showdown against No. 6 Clemson.
Projected as one of the favorites in the ACC, the Yellow Jackets are among the most disappointing teams in the country. They have has lost five in a row -- their worst skid since 1994.
It's a far cry from last season's 11-3 mark, which included an ACC division title and an Orange Bowl victory.
"Look at last year's team. How many games did we win on the last possession?" Johnson said. "This year, they've all gone the other way to this point. Who knows? Maybe if we can get a break or two on Saturday, we'll get it turned around."
Here's some other things to watch for when Florida State takes on Georgia Tech:
ACC DOMINANCE
Florida State hasn't lost an ACC game in more than three years. The Seminoles have 28 straight conference victories, one away from the record they set after joining the ACC in 1992. The Seminoles can match that mark by beating Georgia Tech -- which was the same school they beat for their 29th straight win two decades ago.
BOWL STREAK
Georgia Tech has been to a bowl game in 18 consecutive seasons, tied for the second-longest active streak in the country. That run is in serious jeopardy, especially if the Yellow Jackets fail to pull off an upset against Florida State. Another loss would leave them needing to run the table against Virginia, Virginia Tech, Miami and rival Georgia just to become bowl eligible.
TURNOVER FREE
Florida State is a team that doesn't beat itself. The Seminoles have only one turnover through their first six games, and they're the only college team in the country -- at any level -- that has not lost the ball on offense. "They're due," Johnson quipped.
GOLSON'S TRANSITION
Part of the reason for the lack of turnovers is the dramatic turnaround of quarterback Everett Golson. Last year at Notre Dame, he tossed 14 interceptions and lost eight fumbles. Since transferring to Florida State, he's become more of a game manager and rarely attempts a risky throw. Golson had completed more than 67 percent of his passes for 1,449 yards and 11 touchdowns.
MARSHALL EMERGES
Freshman Marcus Marshall rushed for 184 yards in his college debut for Georgia Tech, then spent the next five contests watching mostly from the bench. Looking to shake up the offense, Johnson gave Marshall his first start in last week's lost to Pittsburgh. Marshall delivered, rushing for 159 yards and two touchdowns on just 10 carries.