Flashback Friday: Tony Stewart grabbed the headlines one year ago today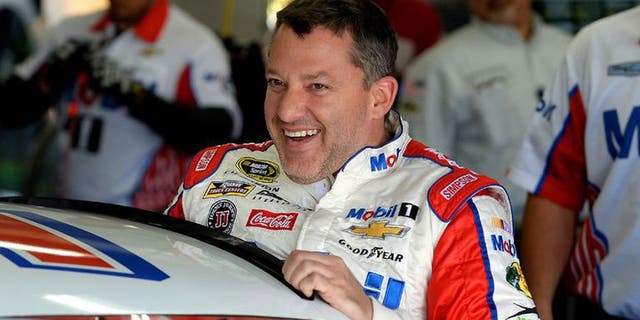 NEWYou can now listen to Fox News articles!
April 21, 2016, one year ago today, was a huge news day for three-time NASCAR champion Tony Stewart.
On April 20th, 2016, Stewart told several national media outlets that there was no timetable for his return to the cockpit and that he was still rehabbing the burst fracture of his L1 vertebrae that he suffered Jan. 31 in a sand dune accident near the California-Arizona border.
On April 21st, Stewart did a 180-degree pivot and said hed be racing that weekend at Richmond.
The change of plans happened once Stewart got medical clearance to race again.
As soon as the doctors said they were happy with my scans, I wasnt going to wait any longer to get back in my racecar, said Stewart. I want to make the most of my last season in Sprint Cup, and Ive been on the sidelines long enough.
NASCAR had granted Stewart an injury waiver, as it did with Kyle Busch in 2015.
But that wasnt the only headline Stewart made.
Late on the afternoon of April 21st, NASCAR fined Stewart $35,000 for violating Section 12.1; 12.8.a; 12.8.1.b of the NASCAR rule book. Those sections contain language about making disparaging marks about the sport and/or NASCARs leadership.
NASCAR did not identify why the penalty was handed out, but its nearly certain that the fine was for Stewart lashing out over the lug nut issue specifically, NASCAR no longer requiring teams to tighten all five lug nuts on each wheel during pit stops.
"I guarantee you that envelope is going to keep getting pushed until somebody gets hurt," Stewart told USA Todays Jeff Gluck. "You will not have heard a rant thats going to be as bad as whats going to come out of my mouth if a driver gets hurt because of a loose wheel that hurts one of them.
"With all the crap were going through with all the safety stuff, and for them to sit there and sit on their hands on this one … this is not a game you play with safety and thats exactly the way I feel like NASCAR is treating this. This is not the way to do this."
Then, on Thursday night, Daytona 500 winner Denny Hamlin released a statement to Nate Ryan of NBC Sports, saying that the nine-member NASCAR Sprint Cup Drivers Council will all pitch in equally to pay Stewarts fine.
We as drivers believe Tony has the right to speak his opinion on topics that pertain to a sport that he has spent nearly two decades helping build as both a driver and an owner, Hamlin said in the statement NBC reported. While we do not condone drivers lashing out freely at NASCAR, we do feel Tony was in his rights to state his opinion. We as a Council support him and do not agree with the fine. Therefore, we fellow council members have agreed to contribute equally to paying his fine.