Fitzgerald featured on SI cover, pens tribute to Arizona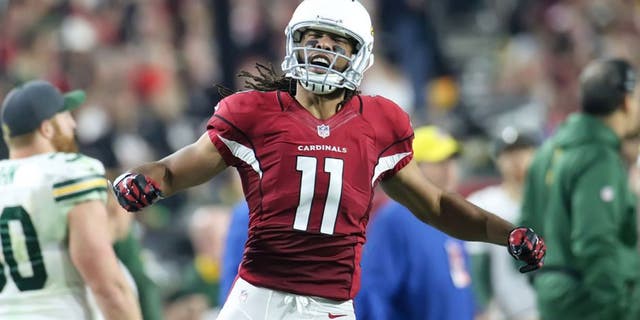 NEWYou can now listen to Fox News articles!
Folks around these parts have gotten to enjoy and celebrate the greatness that is Larry Fitzgerald for 12 full years now.
This week, following his monster performance against Green Bay that carried the Arizona Cardinals into the NFC Championship game, the rest of the nation will have a fuller appreciation of the future Hall of Famer.
Sports Illustrated has selected Fitzgerald for its Western regional cover -- the rest of the nation gets Peyton Manning-vs.-Tom Brady on the cover. Nice company to keep -- three of the iconic stars of our era. SI writer Aaron Murphy chronciles how Fitz and company one-upped Aaron Rodgers in what the magazine headlines "Best Finish Ever."
Fitz, of course, is far from finished, and in addition to the Sports Illustrated coverage, he's also authored a first-person piece on theplayerstribune.com about how he's evolved as a person and how far the Cardinals and the community have come since he was drafted with the third pick in 2004 -- when the overriding perception was that the team was incapable of winning a Super Bowl.
Writes Fitz:
"I feel like I've been through so much with this team and this city. In so many ways, we've grown together.
When I was first drafted, this was the place where I played football.
Now, it's my home. It's where my family lives. It's where I've created a life."
He reflects back on the difficulties of being a Cardinals' fan, the gradual culture change, the near-miss against the Steelers in 2009 that he still can't bear to watch.
He writes about how the upgraded facilities, along with the change in the community, made players actually want to play for the Cardinals. He credits ownership for investing in the team and the prescient hirings of Steve Keim and Bruce Arians, who assembled a roster that is championship worthy.
He offers glowing tributes to teammates, among them:
Carson Palmer: "He's the captain of the offense, and we all follow his lead."
Patrick Peterson: Every time I face (Peterson) in practice, I'm so thanking we're on the same team.
Tyrann Mathieu: "It's an honor to be his teammate. ... If there's any one player that embodies what this franchise is about and why it will continue to find success, it's Tyrann Mathieu. He is the heart and soul."
He concludes that he's indebted to the city for "everything it's given me." He suggests that the Cardinals can be a unifying force for everybody in the state, from recent transplants to native Arizonans.
"There's still work to be done -- but we''e getting there. In fact, I think there's only one, large, final box left for us to check off:
Win a Super Bowl.
Nothing less.
We have the ownership to do it. We have the coaching staff to do it. We have the players to do it.
And I know we have the state to do it.
So let's do it."
Hear, hear -- we couldn't have said it any better.
We highly recommend that you read the entire essay, which can be found here.