First Sprint Cup Series practice results: Kahne leads at Dover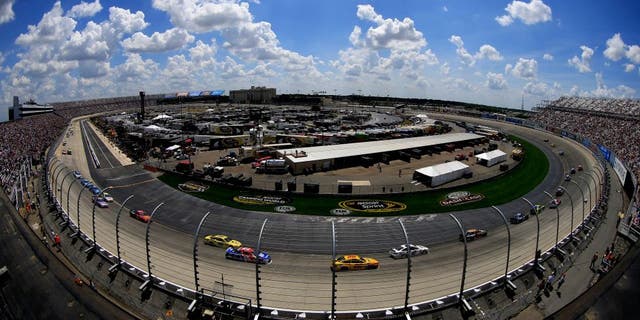 NEWYou can now listen to Fox News articles!
After rains soaked Dover International Speedway for much of two days, the NASCAR Sprint Cup Series got on track for the first time at 11:50 a.m. ET Saturday for a brief practice session.
Non-Chase driver Kasey Kahne was fastest in the session with a lap of 22.429 seconds at 160.506 miles per hour, best among the 32 laps Kahne ran.

Joe Gibbs Racing teammates Carl Edwards and Denny Hamlin were second and third fastest, respectively.
Kevin Harvick heads into Sunday's race in need of a win to advance in the Chase, and the defending series champion ended the weekend's opening practice session fourth on the speed charts.
Despite his driver being 23 points behind the Chase cutoff to advance, crew chief Rodney Childers said the team is not approaching Sunday's race at Dover any differently.
"Our first run was pretty good and we wanted to try something, and it wasn't as good. Hopefully we'll get another (practice) in, but if not, we'll just go race," Childers told FOXSports.com. "You prepare each week the same. You've got to have your stuff together and ready to go. It's definitely a must-win -- everyone knows that. You still prepare the same way. We've had probably the best car here since we've started this team, so hopefully we can actually do something with it."
Non-Chaser Aric Almirola was fifth fastest in his No. 43 Richard Petty Motorsports Ford. Brad Keselowski, Kurt Busch, Jimmie Johnson, Matt Kenseth and Jamie McMurray rounded out the top 10.
Chase contender Dale Earnhardt Jr. was 11th, Clint Bowyer 12th and Joey Logano was 13th. Chase driver Martin Truex Jr. was 16th, followed by Ryan Newman in 18th and Kyle Busch in 19th.
Two Chase drivers were outside the top 20 in Saturday's opening practice. Paul Menard was 21st and Jeff Gordon was the slowest, in 32nd.
Although the session was brief, teams were able to learn a few things from their time on track.
"It was a matter of just checking all the vitals in the car in terms of the suspension travel," Kurt Busch told FOXSports.com. "You hope to get heat in all the oil lines, brake lines. Everything just needs to get a heat saturation in it. It was a nice checklist."
"The characteristics changed just in the little amount of time that we had and the little amount of rubber that was put down," Bowyer told FOXSports.com. "You've got to focus on the things that are really important when you come to a race. A quick balance gauge, knowing the track's green, knowing the track's fast, packers are such a big deal. If you're not on the splitter right now, you're probably seeing some of the fastest times, and you try to push that as close as you can because that's where all the grip is."
Did Bowyer think NASCAR was going to get any on-track action in before Sunday's race?
"Not really," he said. "I was in my underwear in the hauler and (the PR rep) said you're practicing in 15 minutes, so I was like, 'Well, damn. I better get my stuff on,'" he said.
NASCAR plans to hold a final practice session from 2-2:45 p.m. ET, after the K&N Pro Series East race.
See the full practice results: