FIFA Gives Qatar Two-Week Deadline Over Foreign Workers Rights And Safety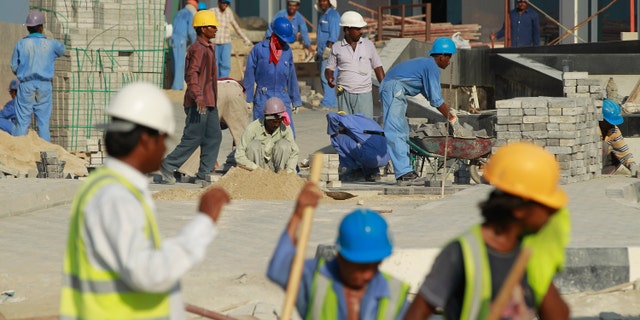 Soccer's governing body has given Qatar two weeks to explain how welfare and living conditions for workers building 2022 World Cup projects are improving.
The move was in part a response to an investigation last fall by the London newspaper, The Guardian, that revealed the appalling situation of foreign workers in the Arab country.
Last week, the paper reported that at least 185 Nepalese construction workers were killed in Qatar in 2013 alone, and 382 in the last two years.
More than half of the 2013 deaths were blamed on heart failures. According to The Guardian, rights activists believe that is often listed as the official cause of death because it covers a "multitude of sins."
Asked last year by The Guardian why so many young Nepalese men died of heart attacks, the Qatari Labor Ministry replied, "This question would be better suited for the relevant health authorities or the government of Nepal."
FIFA says it expects to be sent "information on the specific steps" that have been taken since President Sepp Blatter visited Qatar after rights groups criticized conditions for migrant workers.
FIFA Secretary General Jerome Valcke wrote Thursday to Qatar asking for that "detailed report on the improvement of working conditions" by Feb. 12.
FIFA executive committee member Theo Zwanziger is working with the International Trade Union Confederation to resolve concerns about Qatar.
Zwanziger says "what we need are clear rules and steps that will build trust and ensure that the situation, which is unacceptable at the moment, improves in a sustainable manner."
Nepalese make up about one-sixth of Qatar's 2 million migrant workers. Verified 2013 death rates among laborers from India, Pakistan, Sri Lanka and elsewhere have yet to be released.
Based on reporting by The Associated Press.
Follow us on twitter.com/foxnewslatino
Like us at facebook.com/foxnewslatino