Fellow NASCAR drivers agree on Dale Earnhardt Jr. : 'He's back'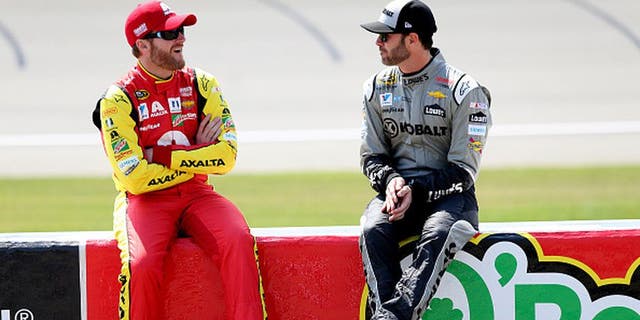 NEWYou can now listen to Fox News articles!
BRISTOL, Tenn. -- Is Dale Earnhardt Jr. finally all the way back?
After a fifth-place finish for Earnhardt two weeks ago at Texas Motor Speedway, at least two of Juniors Monster Energy NASCAR Cup Series fellow drivers certainly think so.
In fact, seven-time Cup Series champion Jimmie Johnson said he thinks his Hendrick Motorsports teammate soon will make a return to Victory Lane.
To go to Texas two weeks ago and for him to run as competitive as he did at a treacherous track, I mean your sensitivity to the car and sliding the tires needed to be as sharp as ever, Johnson said Friday at Bristol Motor Speedway. I think that is a great indication of him finding that last little bit and he is ready to go to Victory Lane.
Earnhardt warned the media prior to the season-opening Daytona 500 that it likely would take some time for him to return to form after missing the final 18 races of last season while recovering from a concussion.
Kurt Busch said that approach was understandable.
My little brother (Kyle Busch) was out for 11 races I think in 2015 (because of injuries) and you could see a little bit of the rust the first couple weeks, and I think we all saw that with Junior the first couple of weeks, Kurt Busch said. But by Vegas (in the third week of the season) and especially with what he did at Texas, hes back.
Earnhardt crashed out of two of the first six races this season and had three finishes of 30th or worse. His average finish over those first six outings was 24.5, leaving him 25th in the points standings.
The Texas finish his first top-five run since finishing second at Pocono last June moved Earnhardt five spots up to 20th in the points heading into this Sundays Food City 500 at Bristol.
Johnson said Earnhardts early struggles were to be expected after Junior missed the second half of last season.
When you miss that much time from the car, the sport changes, Johnson said. Your sensitivity to what you feel in the race car kind of fades -- and to be as sharp as you need to in order to find five-hundredths of a second to be competitive, its tough and it takes reps.
Busch said the constant changing nature of the sport is what is most challenging for any driver who has to step away for an extended period of time.
There are things that you need to do personally and then there are things the sport has done while you were gone -- because there are notes that we have from nine months ago that we look at and kind of giggle like, Oh, wow.We ran that setup?We havent done something like that in a long time, Kurt Busch said.
For him to take off half a season, yes, there are things he needed to do, but also the team was evolving and he needed to adapt to those setups as well as what he needed to do personally. But we see things on track. He was making moves at Texas and Im like, Yeah, hes back.
The Sporting News | Sporting News via Getty Images