FC Barcelona Opens New Liga Season With Dual Stars Messi And Neymar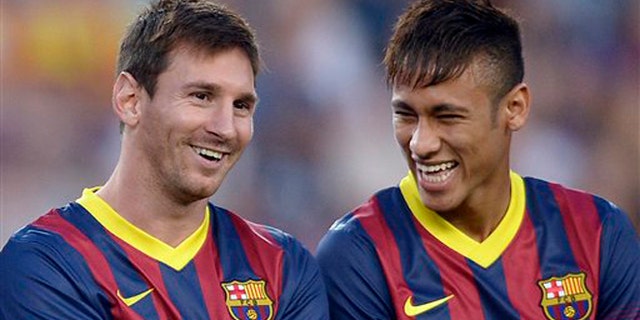 What happens when the best player in the world and the "next big thing" both get healthy and on the field?
It'll probably be even more lopsided than this.
Lionel Messi scored two goals and set up another Sunday to help mark the debut of Neymar and Barcelona coach Gerardo Martino in a 7-0 thrashing of Levante, ensuring the Spanish champions start their title defense with pizazz.
With Neymar watching from the bench, Messi almost single-handedly dismantled overmatched Levante.
After Alexis Sanchez opened the scoring, Messi claimed Barcelona's second goal, stole possession to create the third, and passed for Pedro Rodriguez to score the fourth.
Messi scored his second goal from the penalty spot before Xavi Hernandez made it 6-0 against the demoralized visitors just before halftime.
Neymar, who has been recovering from anemia since his $76 million move from Santos in the offseason, went on in the second half in time to see Pedro strike again and polish off the lopsided victory.
The applause Neymar received when warming up grew to a standing ovation when he went on for Alexis in the 64th for his first official minutes in Barcelona's burgundy and blue.
Those eager to see Neymar and Messi together were disappointed, however. The two were only on together for seven minutes before Martino sent Andres Iniesta on for Messi.
The 21-year-old Neymar was active on the left flank but couldn't find his new teammates with crosses.
Martino was hired in a rush last month to replace Tito Vilanova after he announced he was stepping down to focus on his fight against a recurrent throat tumor. But despite a hectic preseason and little preparation time, Barcelona's talented squad made the Argentine manager's first game in Europe an easy stroll.
Based on reporting by The Associated Press.
Follow us on twitter.com/foxnewslatino
Like us at facebook.com/foxnewslatino