EXCLUSIVE: Valerie Letourneau calm and confident in her striking hours before fight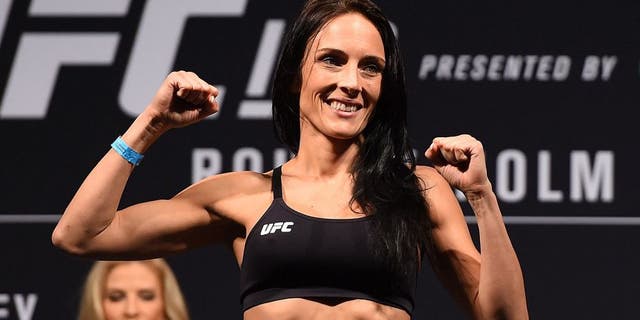 Valerie Letourneau stared right back into the scary game face of strawweight champion Joanna Jedrzejczyk, and didn't blink. Speaking exclusively with FOX Sports as he readies to leave the fighter's hotel room with her and head to Etihad stadium, less than two hours before she will challenge for the world title in the co-main event of UFC 193, coach Mike Brown says that Letourneau was and is completely calm.
"She's just staying composed. eye on the prize," he says.
According to the former featherweight world champion, Letourneau was not rattled in the least by Joanna's death-stare. "She's feeling good because she's in a good spot," he revealed.
"She's got nothing to lose since she's such a big underdog. A lot of people are counting her out so that makes it such an easy fight, mentally."
Additionally, Letourneau has the confidence of knowing she's a different type of opponent than the champion has ever before faced. Just like the Polish former Muay Thai champion, the American Top Team member and mother is at ease trading strikes.
"Val knows what she's capable of. We know Joanna has always fought grapplers," Brown concludes.
"Valerie is game. She's not punch-shy. She's willing to take one to give one and she won't back down.