Ex-Bucs punter Michael Koenen believes tainted water cost him his health, job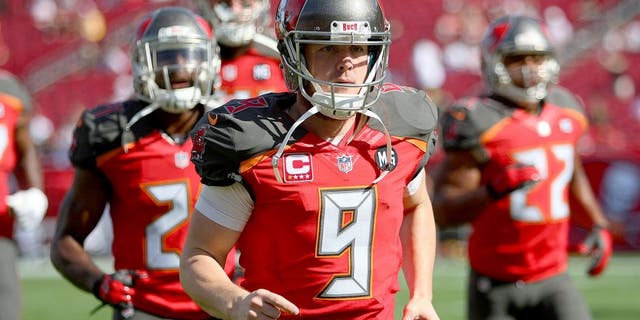 NEWYou can now listen to Fox News articles!
As part of his training regimen, Michael Koenen drank performance water that he thought would help him remain one of the NFL's top punters and kickoff specialists.
But instead of getting the results he was seeking, Koenen believes use of the product has put his 10-year NFL career on ice.
In an exclusive interview with FOXSports.com, Koenen said he is still feeling the effects of having consumed tainted water that made him sick and contributed to the loss of his roster spot with the Tampa Bay Buccaneers. The illness remains bad enough that Koenen had to decline feelers from other NFL teams about signing earlier this season.
Koenen, who declined to name the water company because of pending legal action, said he began feeling ill during the 2014 season. En route to posting a career-low in gross punting average and having his touchback percentage on kickoffs take a sharp decline, Koenen received a recall notice at his house for the product because of the possibility it was contaminated with mold and yeast spores.
"When I would go home, that's all we would drink," Koenen said in a telephone interview. "I would flush my system by drinking pH water and trying to keep healthy. When I started feeling sick, I began trying to drink more of it to try to flush whatever was in me out. It ended up making it worse."
Koenen said the problem was compounded further by doctors who were unable to identify what was causing his ailment, including one who wanted to prescribe anti-depressants because of the belief his symptoms were psychosomatic. Koenen said it wasn't until recently that he was diagnosed with mycotoxins that may be the root of the problem.
"At this point we're still trying to figure out how to completely heal me," Koenen said.
Koenen, 33, entered the NFL in 2005 as an undrafted college free agent from Western Washington. He spent six seasons with the Atlanta Falcons before signing a six-year, $19.5 million free-agent contract with Tampa Bay in 2011 that made him one of the highest-paid punters in NFL history. His long kickoffs also contributed to the lofty salary.
Koenen remained among the top performers at his position his first three years with the Buccaneers.
"Going into the 2014 season, I was feeling stronger than I ever had," Koenen said. "I even hit a 75-yard field goal messing around with the guys."
But last October, Koenen began feeling constantly ill. He couldn't complete a Friday practice and took pain-killers before playing in a game 48 hours later.
"At first it felt like flu symptoms," Koenen said. "Then one day my back and neck tightened and I was aching all over. I felt nauseous all the time. When I was sitting in my truck driving, I couldn't lean forward to pick something up off the console. It was just terrible."
Koenen's a 30.3-yard gross average on seven punts in losses to Cleveland and Atlanta last November was 7.5 yards less than his career mark. In only three other games during his previous nine seasons had Koenen posted such a low figure.

"It's hard to punt when your hips won't go anywhere," he said.
In the weeks that followed, Koenen said he lost roughly eight pounds, stopped working out in the weight room and "loaded up on Tylenol to try to get through games." The Buccaneers had a MRSA epidemic in 2013, but the possibility of a staph infection was ruled out. He also tested negative for mononucleosis, which can produce similar symptoms in those afflicted with the virus.
"I went in to talk to Lovie (Smith) at one point," said Koenen, referring to Tampa Bay's head coach. "I said, 'I don't know what's wrong with me.' It hurt so bad because I felt I was taking the team down because I couldn't perform.
"The next day, I got the recall notice."
Koenen immediately stopped drinking the product and showed some signs of improvement but says he never returned to full health. He finished the season with an NFL-low 40.4-yard net punting average.
Koenen said health problems lingered into the 2015 preseason. Kickoffs that once sailed out of the end zone were instead going seven to eight yards deep. Koenen was even held out of Tampa Bay's preseason finale because he wasn't feeling well before being released as part of the team's final roster cuts.
Koenen understood why the Bucs made that decision and described it as a "blessing in disguise because I was in so much pain."
Lauren Kotwicki, press officer for the U.S. Food and Drug Administration, told FOXSports.com in an email that the potential health risk of consuming sports water with mold or yeast is "low" and the frequency of contamination in that type of affected product is "very low." Kotwicki wrote that those affected usually come from "immunocompromised populations such as the aged and debilitated, HIV-infected individuals and persons receiving chemotherapy or antibiotic treatment."
Kotwicki, though, did add that "the risk associated with consumption of contaminated sports water with these illness-producing molds and/or yeasts is unknown."
Not only is he still seeking further diagnosis and specialists to speak with, Koenen decided to make his story public so others who are experiencing similar symptoms without knowing why are alerted to the possibility they, too, consumed tainted sports water.
In the meantime, Koenen is spending this fall kicking a soccer ball with his children at home rather than footballs. Koenen does remain optimistic about an NFL return once he returns to fill health.
"It's a matter of getting rid of what is causing the inflammation and a game plan of how to do it," he said. "Once I do that, I don't think I'll have any long-term issues.
"It's hard when you're not performing well and not everyone knows the reason why. I felt like I was getting to the strongest point of my career. I've learned so much as I've gotten older on how to take care of my body. I look forward to getting back."