Evans leads Sun Devils past hapless Beavers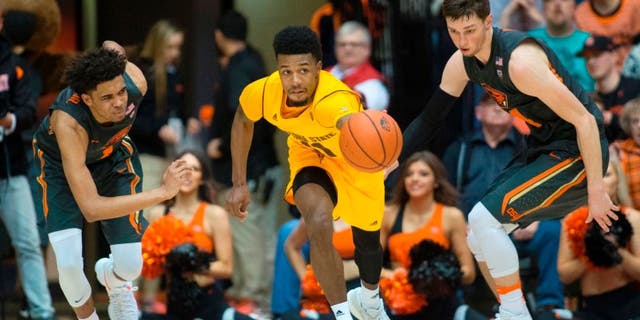 CORVALLIS, Ore. -- It's no secret that Arizona State can score buckets in bunches, but when the Sun Devils concentrate on team defense, they're especially dangerous, said junior guard Shannon Evans II.
"We can compete with anybody in the Pac-12. I just feel like we have to keep doing it and being consistent," he added.
Evans scored 21 points, with four 3-pointers, as Arizona State beat Oregon State 81-68 on Saturday.
Tra Holder had 19 points, six rebounds and five assists and Torian Graham added 21 points with four 3-pointers for the Sun Devils (11-13, 4-7 Pac-12).
"We got a lot of great contributions across the board," said Arizona State coach Bobby Hurley.
Drew Eubanks had 22 points and 17 rebounds and Stephen Thompson Jr. added 15 points, but shot 5 for 17 for the Beavers (4-20, 0-11).
"Arizona State came out and took it to us. I thought they were the aggressor. ... We just lacked that urgency defensively," Oregon State coach Wayne Tinkle said.
Arizona State took control of the game early with a barrage of 3-pointers and a defense that forced Oregon State into 11 first half turnovers.
Oregon State outrebounded the Sun Devils 43-27 for the game, but committed 18 turnovers that led to 32 points. Arizona State shot 13 for 27 from long range, while the Beavers shot 7 for 28 on 3-pointers.
The Sun Devils went on a 14-0 run, capped by an alley-oop dunk from Evans to Obinna Oleka, to go ahead 20-12 at the 10:08 mark.
Another 12-0 surge, fueled by three 3-pointers, put Arizona State up 39-21 late in the first half.
Arizona State went to the break leading 44-25 after a put-back by Holder at the buzzer.
Oregon State trailed by single digits midway through the second half, 58-49, but Holder sank a 3-pointer on the next possession and the Sun Devils stretched the lead again.
BIG PICTURE
Evans has scored more than 20 points in three of the last four games. . Arizona State entered the week third in the Pac-12 with 9.9 3-pointers per game The Sun Devils had 10 before halftime on Saturday. . Arizona State lost 71-70 to No. 13 Oregon on Thursday night.
GRAND THEFT B-BALL
The Sun Devils had 11 steals and only eight turnovers for the game. Evans and Graham led Arizona State with three swipes each and Kodi Justice and Oleka had two steals apiece.
MINDSET CHANGE
Evans said he's scoring more lately because he's changed his attitude and is more focused. "It's just living in the gym, being a gym rat, getting my shots up, staying focused, having a mindset to be a killer," he added.
UP NEXT
Arizona State hosts California on Wednesday.