Eurozone Battle Moves to the pitch as Germany play Greece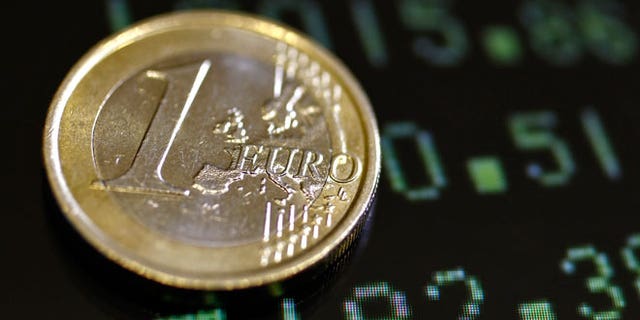 In Greece they are rubbing their hands with glee.
Ninety minutes to get even. Ninety minutes to restore lost pride. Ninety minutes for the weak to triumph over the mighty.
When Greece take the football field in the Polish coastal city of Gdansk on Friday night to battle Germany for a place in the Euro 2012 semi-final, the honor of the nation is at stake.
In Germany, they also rub their hands with glee.
Ninety minutes for the paymaster to give the profligate state a drubbing. Ninety minutes to show who is in control. Ninety minutes to get even for political headache after headache, crisis after crisis.
The match, played out in a city rebuilt in grand Hanseatic style from the ruins of World War Two, pits two nations against each other whose ties have rarely been so sour, so bristling.
"Bye-bye Greeks, we can't rescue you today!" Germany's top-selling Bild proclaimed on its front page in the colors of the Greek flag.
"Bankrupt THEM," blared leading Greek paper Sport Day.
Even the respected daily Kathimerini drummed home to Greeks that this match is against a foe popularly blamed for saddling Greece with a punitive austerity program, chronic unemployment and years of deep economic recession.
"Whoever thinks today's match is just a game is wrong," the paper wrote, vowing it was "politics (maybe even war) by other means".
"To many Greeks, victory will represent the triumph of the weak against the wealth, might and arrogance of the powerful - the victim would humble his executioner. If the Germans win, they'll see it as confirmation of their diligence, strategy, talent and thrift," it added.
Cheering on Germany in Gdansk will be Chancellor Angela Merkel, a hated figure in Greece, who for many personifies the painful bail-out conditions, and the euro zone's strict approach to the debt-strapped state.
Merkel loves football and loves the German team. Earlier in the tournament she went to visit their training base. She attends high-profile matches and was even once photographed with bare-chested midfielder Mesut Ozil in the changing room.
The team in turn, call her their lucky charm. During the 2010 World Cup in South Africa she leapt to her feet and cheered wildly in the tribune for German goals.
Friday's game could be Merkel's "most difficult" Bild suggested, as she works out a tactful approach.
Trying to temper the hype has been German Foreign Minister Guido Westerwelle, no fan himself of the beautiful game. He claims it will be a "festival of football".
DAVID AND GOLIATH
Greece have never beaten Germany but now would be the ideal time to do so in order to cheer up the public back home and give them hope that Greece can repeat their amazing run to the European Championship crown in 2004.
The chances are slim to say the least. The Germans, among the favorites to take the tournament title, go into the match on the back of 14 consecutive competitive victories stretching back to the 2010 World Cup.
For Germany, playing in Gdansk, which prior to World War Two was the German and Polish inhabited free city of Danzig, will feel like a home game. Thirty thousand Germans are expected to travel to watch the game. Only six thousand Greek supporters are expected. Most Poles say their hearts beat for the underdog.
As of Friday morning thousands of Germans had already arrived in a rainy Gdansk, but Greek fans were thin on the ground in a city where a September 1 attack in 1939 was the beginning of Germany's invasion of Poland.
In Athens, some stay-at-homes vented spleen over hard times.
"I only wish someone would buy my plane ticket so I could go there and throw a yoghurt in her (Merkel's) face," said Theodosis Giannitsis, 65, who owns a small antique shop.
Germany's dapper coach Joachim Loew has stressed the need to respect the defensively-minded Greeks, particularly after their shock 1-0 win over Russia, and as tournament knockout stages can have a character of their own.
"It will be a tight game because the Greeks are not easy to break apart. They have their own style of play. It is in their blood, a tight defense and strong counter-attacks," said Loew.
"We keep writing them off but they are always there. They are... survival artists."
Greek players have had to brush off constant mockery.
Comic strips depicting a Greek player snatching the referee's coin at the toss-up before the start of a game and shouting "a euro" are a daily occurrence.
But players know the joy they can bring.
The Greek team, which staged the largest upset of the tournament in knocking out Russia 1-0 to earn their quarter-final spot, know the joy they are bringing to their country.
"The most important thing for us is to give some happiness to the Greek people, that's all, to make them celebrate in the street, given everything that is going on," said midfielder Giannis Maniatis.
Back in Athens, not everyone was drawn into the spirit.
"I couldn't care less," Said Panagiotis Pappas, 22, a chemistry student. "We're on the brink of disaster and all they care is about is football for Christ's sake."
(Additional reporting by Stephen Brown in Berlin and Harry Papachristou in Athens.)