Duncan provides needed tips, laughs for injury-ravaged Spurs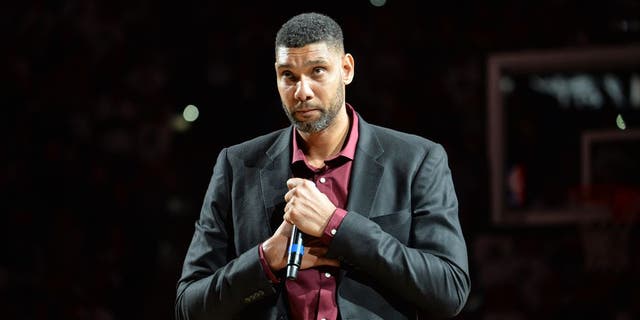 SAN ANTONIO (AP) -- There was a mad scramble at the Spurs practice during the Western Conference finals, a flurry of activity to position cameras and get recording devices ready to document essentially what was the sighting of a white whale.
Tim Duncan, the NBA's most reclusive star, had apparently accepted a request to speak publicly for the first time since quietly retiring in the offseason.
The excitement built with each step Duncan took. Then, after meticulously unwrapping a right knee brace, the former Spurs All-Star walked past the cameras without stopping.
"Is there a bathroom back there?" Duncan said, delivering the punchline with the same stoic look he wore throughout his 19-year career.
San Antonio staff members, including Monty Williams, Ime Udoka and Becky Hammon, howled in delight -- a rare laugh for the Spurs in a conference finals that had Golden State cruising toward an easy win and a trip to the NBA Finals.
Duncan's good humor and calm demeanor -- as much a part of Duncan's Hall of Fame career as his leadership -- gave the Spurs a minor boost after falling in an 0-3 hole against the Warriors without injured stars Tony Parker and Kawhi Leonard much of the way.
Enter Duncan to provide a few laughs, and more importantly, a few defensive tips.
"It's always good to have Tim in the facility," Spurs guard Danny Green said. "Even his presence gives us a little more mental relaxation, a little more refocus with him just helping other guys see what he sees on the tube. He can pick and point out what the bigs need to do."
Since retiring, Duncan has served as an unofficial assistant coach for the Spurs, imparting the knowledge that helped him become one the greatest power forwards ever. He worked with numerous players over the weekend, particularly LaMarcus Aldridge and Patty Mills, who have both struggled against Golden State.
Mills was averaging just 5.7 points on 2-for-14 shooting on 3-pointers through Game 3, but Aldridge has received most of the criticism for the team's lackluster play offensively. After signing a lucrative contract last offseason, Aldridge is being held to 18 points on 22-for-52 shooting against the Warriors.
Without their leading scorer in Leonard, starting point guard in Parker and their energetic reserve post in David Lee, the Spurs need something. Unfortunately, it's not Duncan.
Duncan retired in July after winning five championships, earning three NBA Finals MVP awards and was twice named league MVP. Knee injuries and time forced "The Big Fundamental" to retire.
"Tim can't help us a lick," coach Gregg Popovich deadpanned Saturday. "He can't play dead anymore. He just comes for the free lunch."
But that hasn't stopped Duncan from trying to help as much as he can. The 6-foot-11 forward has stopped by practice throughout the season to give tips to players and assist with practice. He has stayed in touch with Popovich.
"We're like in love, we text all of the time," Popovich said following a November practice Duncan attended.
The tongue-in-cheek admission was a shock. Popovich texts? Does he use emojis?
"Only the ones where you blow kisses," Popovich quipped.
Duncan may no longer be able to contribute on the court, but he is still gives the Spurs positive energy.
Chances are they might need another pick-me-up following Game 4.