Draymond Green returns after scary-looking injury as Warriors beat Jazz in Game 2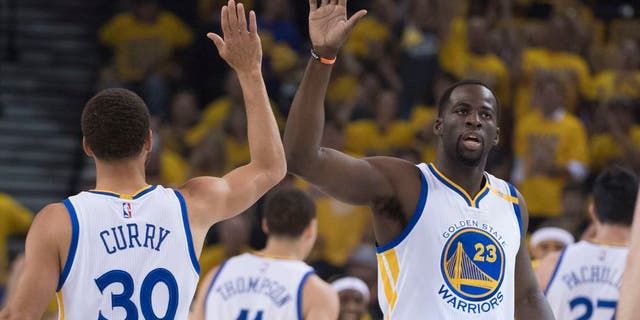 The Utah Jazz wouldn't go down without a fight.
Although the Golden State Warriors emerged victorious in Game 2 on Thursday night with a wire-to-wire115-104win, Utah made the two-time NBA Finals pull out their best trickto get the job done.
Early in the third quarter, the Jazz closed what was a 20-point lead to just six points. Warriors coach Mike Brown responded by going small, sending Andre Iguodala into the game alongside Stephen Curry, Klay Thompson, Kevin Durant, and Draymond Green. Golden State pushed the lead back over 10 and held off a couple more pushes from Utah to take a 2-0 series lead.
The Warriors got a scare in the fourth quarter, as Green exited the game following an apparent left leg injury. He walked to the locker room under his own power, however, and checked back into the game shortly thereafter, albeit with a slight limp.
Green finished with 21points on 7-for-13 shooting, including 5-for-8 on 3-pointers. The Golden State forward is now 18-for-33 (54.5 percent) on 3s this postseason. He also had sevenrebounds, six assists and foursteals, while Kevin Durant paced the Warriors with 25 points and 11 rebounds, and Stephen Curry added 23 points and seven assists.
Utah's Gordon Hayward led all scorers with 33points. Despite a couple strong bursts in both Games 1 and 2, the Jazz, who were without starting point guard George Hill due to a toe injury, have yet to lead in this series.
Game 3 is in Salt Lake City on Saturday. Here's hoping the Warriors can find something to do on the road.
Soobum Im-USA TODAY Sports | Soobum Im