Did Rockets GM Daryl Morey take a veiled shot at Russell Westbrook ahead of Game 2?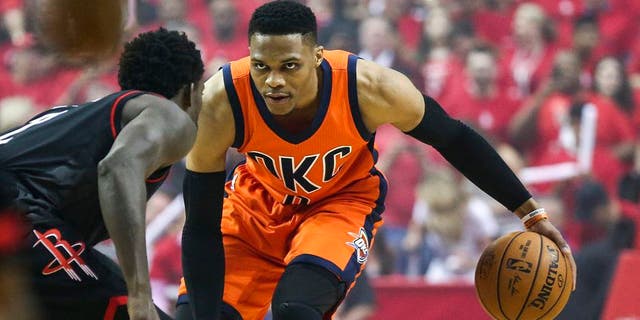 NEWYou can now listen to Fox News articles!
Its a theory some are using to detract from Russell Westbrooks MVP credentials, and it appears Houston Rockets general manager Daryl Morey is on board with the idea that Westbrook's teammates passed up on rebounds during the regular season to allow him to pad his stats and achieve the mythical triple-double average.
Morey took the veiled shot when he defended former Rockets forward Matt Bullard on Wednesday. Bullard's name was sarcastically attached to an award handed out by an analytics blog celebrating bigs who fail to rebound.
Bullard said that Rockets legend Hakeem Olajuwon told him to stay away from potential rebounds in order to allow the Hall of Fame center to grab them.
This prompted Morey to reference other superstars who supposedly do the same thing.
Morey has been campaigning for his player guard James Harden to get the nod for MVP. Westbrook, who became the second player in NBA history to average a triple-double, and Harden are believed to be the two frontrunners for the award that will be announced June 26 as part of the NBAs first-ever awards show.
The Rockets host the Thunder in Game 2 of their first-round series Wednesday.
Greg M. Cooper-USA TODAY Sports | Greg M. Cooper