Devonta Freeman's agent seeks 'elite' pay for Falcons star as Super Bowl nears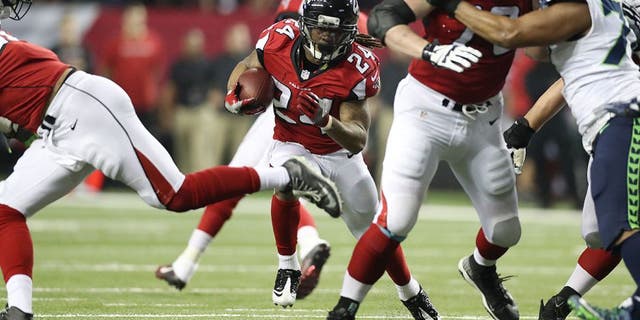 NEWYou can now listen to Fox News articles!
The Atlanta Falcons are preparing for their second Super Bowl appearance in franchise history, but the agent for running back Devonta Freeman is already laying the groundwork for her client.
Freeman's agent, Kristin Campbell, told NFL.com that she expects the Falcons to pay Freeman "like the elite back he is."
"It's time for the Falcons to pay him like the elite back he is," Campbell said. "I expect them to make him a priority this offseason, as he's been an integral part of the dynamic offense that has gotten them to the Super Bowl."
Freeman is coming off a career year in 2016, when he ran for a career-high 1079 yards and averaged 4.8 yards per carry while sharing the workload with second-year back Tevin Coleman. But Freeman made $800,000 last season and has one more year left on his rookie deal.
Campbell said her client's current contract has been "frustrating" to Freeman, and she has already reached out to the Falcons in the hopes of initiating contract talks.
"During the season it has been frustrating for Devonta," Campbell said. "He has been trying to establish himself as a top-three back in the league, and yet when you look at his snaps, he gets significantly less opportunity than the others vying to be in that category."