Despite down 2015, A's Butler says "I've got a lot left in the tank"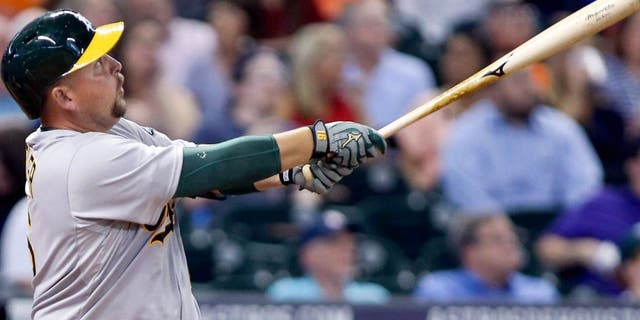 NEWYou can now listen to Fox News articles!
For Billy Butler, his first season away from the Kansas City Royals was a challenge.
Signed by the Oakland Athletics to a three-year, $30 million deal in the winter of 2014, Butler struggled in 2015, his first year with the A's.
He hit .251/.323/.390 with 15 home runs, 65 RBI, hit into 26 double plays and posted a WAR of -0.9. Those aren't quite the figures the A's expected after investing some serious money into Butler's services.
At A's Fan Fest this past weekend, Butler spoke to the media and emphasized that he's worked all offseason on his conditioning in hopes of getting back on track in 2016.
Noting a difference in lifestyle and expectations between Kansas City and Oakland, Butler said he'll be ready for the task at hand. As quoted by Joe Stiglich of CSN Bay Area:
Butler, who is known for his nickname 'Country Breakfast', is listed at 6'1", 240 pounds...and he told Stiglich he doesn't blame anyone for potentially questioning his conditioning after his 2015 struggles. However, he does say he has a lot left 'in the tank':
Butler actually hit well toward the end of 2015, after the A's were all but buried in the standings. In September and October, Butler hit .300/.364/.509 with a .321 BABIP - potentially not a 'sustainable' figure but still reason to perhaps be hopeful of getting back on track in 2016.
He now has spring training to show the A's how committed he says he is to demonstrating to them his renewed focus for his second season in the Green and Gold.