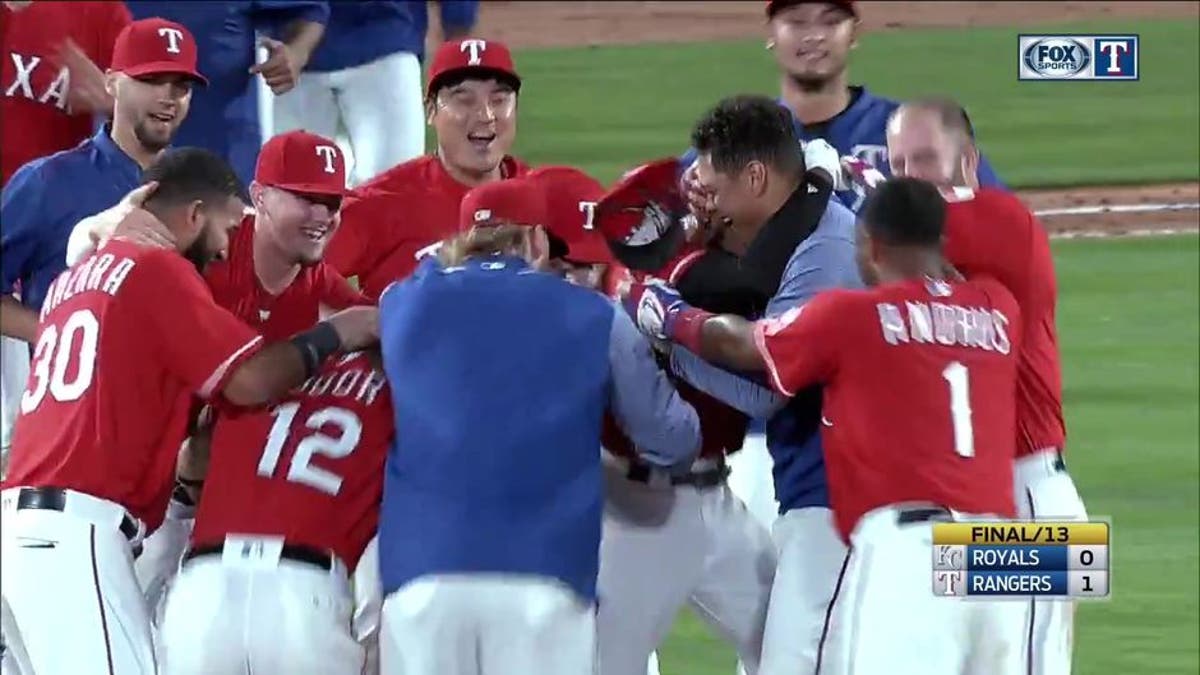 ARLINGTON, Texas (AP) -- Delino DeShields is stuck in a crowded platoon for playing time in left field. In one of his rare starts for the Texas Rangers so far this season, he had the biggest hit.
DeShields had an RBI single with one out in the 13th inning, sending Joey Gallo home from second base as the Rangers beat the Kansas City Royals 1-0 on Thursday night, the deepest a game has ever gone in the Texas ballpark before a run was finally scored.
"Joey had a great at-bat … I wanted to be able to be the one to get the job done," said DeShields, who started for only the fourth time this season, the third time in left."
It was only the third game in the 24 seasons of the Rangers' ballpark to go to extra innings scoreless. This was the longest of those games, all 1-0 wins for Texas.
Gallo pulled a double into the right-field corner off Travis Wood (0-1), the third Royals reliever after starter Danny Duffy went 7 1-3 innings. DeShields, just 1-for-13 on the season to that point, then hit a sharp single to left on the 10th pitch of his at-bat -- only a few pitches after slicing a ball just foul down the right-field line.
"I felt like I was on everything. If anything, he probably didn't know what to throw. He probably thought he could get lucky or something," DeShields said. "I was locked in."
Gallo's double was the first hit for Texas since Jonathan Lucroy's leadoff double in the fifth.
"He is going to strike out some, but that was a big at-bat for him," manager Jeff Banister said. "Every time he steps up to the plate there is a competitiveness in him that he wants to get a job done."
That was also the first hit in the game since Royals leadoff hitter Alex Gordon's one-out single in the eighth.
"I think what you saw tonight was two struggling offenses facing off against some pretty darn good pitching, on both sides," Royals manager Ned Yost said.
Kansas City (7-8) has scored a majors-worst 41 runs so far this season.
While the Rangers (6-10) have now scored 73 runs, the two-time defending AL West champs have an AL-low .206 batting average and were coming off a 3-6 West Coast Road trip that dropped them to the bottom of the division standings.
Dario Alvarez (1-0), the seventh Texas pitcher, struck out three in two innings after walking the first batter he faced on four pitches.
Andrew Cashner, the first Texas-born Rangers starter since 2008, pitched six innings in his first home start. Six relievers then combined for 11 strikeouts and one walk while allowing only one hit over seven innings.
LONG SCORELESS
In those other extra-inning home wins for Texas after being scoreless through nine innings, Robinson Chirinos had an RBI single in the 12th inning to beat the Houston Astros on April 11, 2014; and Rusty Greer's RBI single in the 11th inning was the difference in a win over Toronto on Aug. 25, 2000.
GOOD PITCHING OR BAD HITTING?
"It's a little bit of both," Royals 3B Mike Moustakas said. "Obviously they've got some good arms and they've got some good pitchers over there. … When your pitchers give you that kind of performance, we've got to do whatever we can to tack one across."
NOT MUCH AT THIRD
Before Gallo scored, the only runner to reach third base had been Lucroy. The Texas catcher advanced to third on a deep flyout by Carlos Gomez before getting stranded there in the fifth.
TRAINER'S ROOM
Royals: Yost said OF Jorge Solor, who strained his oblique muscle during the final week of spring training, is close to starting a rehab assignment in the minor leagues.
Rangers: 3B Adrian Beltre took some grounders and his throws to first base were caught by Banister. "He looked much better today than last time he went through this exercise," the manager said. … Demoted closer Sam Dyson, on the 10-day DL with a bruised right hand, threw a simulated inning.
UP NEXT
Royals: RHP Nate Karns has a 1.54 ERA through his first two starts, allowing two earned runs in 11 2-3 innings without getting a decision in either of those games.
Rangers: Cole Hamels makes his fourth start of the season still without a decision. The lefty has exited all of his starts in position for a win, but the Rangers have lost each of those games.