Denny Hamlin dominates to win XFINITY race at Darlington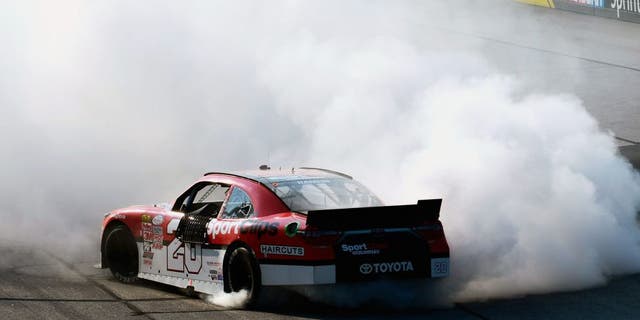 Denny Hamlin rolled to a dominating XFINITY Series win in the VFW Sport Clips Help a Hero 200 at Darlington Raceway on Saturday, overtaking his Joe Gibbs Racing teammate, rookie Daniel Suarez, with three laps to go to score the victory.
Kyle Busch, Hamlin's teammate at Joe Gibbs Racing, finished second as Suarez, who had gambled to stay on the track when the other leaders made late pit stops, was forced to settle for third. Suarez, also a JGR driver, gave the Gibbs' organization a 1-2-3 sweep of the top spots in the race that Hamlin led for 117 laps.
It was Hamlin's fourth career series victory at Darlington and came as no surprise to his crew chief, Michael Wheeler.
"Honestly, Denny Hamlin is really great here," Wheeler said when asked about the dominance of the No. 20 JGR car that Hamlin drove. "The shop built a brand-new car for us that was really good, and I'm really looking forward to the rest of the year."
Hamlin was quick to shift some of the credit to Wheeler and the rest of his team.
"You can't have dominant performances like that without a great race car, and obviously Mike Wheeler and these guys did that for me," Hamlin said.
Hamlin, of course, is a Sprint Cup regular who shares the No. 20 ride with several others at JGR. The Darlington start was only his fifth of the season in the car, but he earned his third series win of the season in it.
Hamlin did so despite a botched pit stop in which his crew failed to fill his car full of fuel, necessitating an extra stop later on that forced him to run Suarez down in some frantic closing laps.
"It one of those things that happen. It was one of those fumbles that happen," Wheeler said. "It turned out to be no big deal. We came back in and got to Victory Lane."
Nonetheless, with six laps remaining, Hamlin still trailed Suarez by a seemingly substantial 3.5 seconds. Hamlin's car was turning much faster lap times, however, as Suarez was slowing on older tires as he also began to worry about making it the distance on his fuel.
Three laps later, Hamlin made the pass that gave him the lead for good. He said the extra pit stop caused by the earlier fuel snafu turned out to be a proverbial blessing in disguise.
"I had scraped the wall when I kind of misjudged my line one time there, and had a little right-side damage -- and the car just stopped turning. So I don't know whether my right-front would have made it to the end or not (without it being addressed in the extra stop)," Hamlin said.
The first non-JGR driver to finish was Kevin Harvick in fourth, followed by Chris Buescher, who maintained his series points lead by finishing fifth.
Suarez took home a $100,000 Dash4Cash bonus check with his third-place run. It was his sixth top-five finish of what has been an impressive rookie season.
Busch said he obviously would rather have won than finish second to his teammate, but also said he wasn't surprised Hamlin beat him to the checkered flag.
"I saw how fast the 20 (of Hamlin) was in the second practice, and I knew we would have our work cut out for us," Busch said. "But having Joe Gibbs Racing come in 1-2-3 is pretty stout, and something everybody back at the shop can be proud of."