Dejected Carl Edwards left as first driver out of Championship 4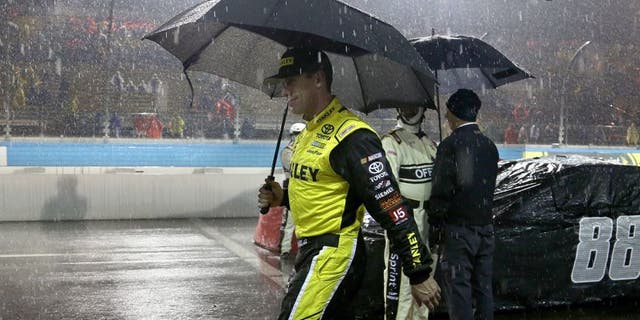 "We can't let it end like this."
That was the mindset of Joe Gibbs Racing's Carl Edwards as rains halted Sunday's NASCAR Sprint Cup Series race at Phoenix International Raceway, officially ending his hopes at racing for the championship next weekend at Homestead-Miami Speedway.
When NASCAR declared the race official after 219 of the 312 laps, Edwards was 12th on the leaderboard and five points behind Martin Truex Jr. for the final transfer spot to the Championship 4.
Starting from the fourth spot, Edwards was a factor inside the top five for much of Sunday's race, but when a caution flew for an accident involving Joey Gase and Ricky Stenhouse Jr., the driver of the No. 19 Toyota had just completed a green-flag stop and was trapped a lap down.
Receiving the free pass to get back on the lead lap, Edwards never had a chance to race his way back into contention as rains hit the track and ended the race early.
In his first season working with JGR and crew chief Darian Grubb, Edwards earned two victories -- the Coca-Cola 600 at Charlotte Motor Speedway and the Bojangles' Southern 500 at Darlington Raceway -- among his seven top fives and 15 top 10s through the first 35 races of the season.
However, a 14th-place finish at Martinsville Speedway to open the Eliminator Round, followed by a fifth last weekend at Texas Motor Speedway, left Edwards seven points outside the transfer spot heading into Sunday.

Despite closing that gap during parts of Sunday's race at Phoenix, Edwards ultimately fell short of advancing to the title fight next weekend at Homestead.
"Just very disappointing for this whole Stanley Toyota team," said Grubb. "How hard they've worked all year to come down to something as simple as a rainout. We feel like we could have raced our way back in there and had a shot at it.
"We knew that was going to be a tough situation, but it ended up that it bit us, and I just hate it for these guys," he added. "I'm very proud to have had a championship in the past (with Tony Stewart), and I wanted to help bring one to these guys who have worked so hard for it."
Now out of the championship picture, the No. 19 team turns its attention to winning the season finale next weekend at Homestead and doing all it can to help teammate Kyle Busch secure the Sprint Cup title for JGR.
"We want to do everything we can to bring that championship home to Joe Gibbs Racing with Kyle Busch and the 18 team," said Grubb. "They've overcome a lot this year with Kyle's injury, and very proud of them and anything they ask of us, we'll help them out."