Dee Gordon reaches 200-hit mark as Marlins win first game of doubleheader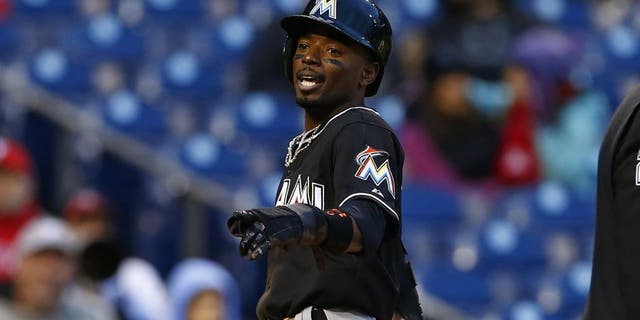 NEWYou can now listen to Fox News articles!
PHILADELPHIA (AP) -- Christian Yelich had a career-high five hits, Marcell Ozuna drove in the go-ahead run in the ninth inning and Dee Gordon got his 200th hit of the season as the Miami Marlins rallied for a 7-6 victory over the Philadelphia Phillies in Game 1 of a doubleheader on Saturday.
The loss ensured Philadelphia a second straight last-place finish in the NL East.
Yelich singled with one out in the ninth off Ken Giles (6-3) and scored the tying run on Martin Prado's triple to right. Prado scored the go-ahead run on Ozuna's single to left.
Gordon had a pair of hits and an RBI and reached the milestone with a sixth-inning single. Gordon entered hitting .329, two points behind Bryce Harper for the NL batting crown. He became the first Marlins player since Hanley Ramirez in 2007 to record 200 hits.
Chris Narveson (3-1) tossed a scoreless eighth to earn the victory.