Dana White: If McGregor knocks out Mayweather 'he'll be the biggest star in sports ever'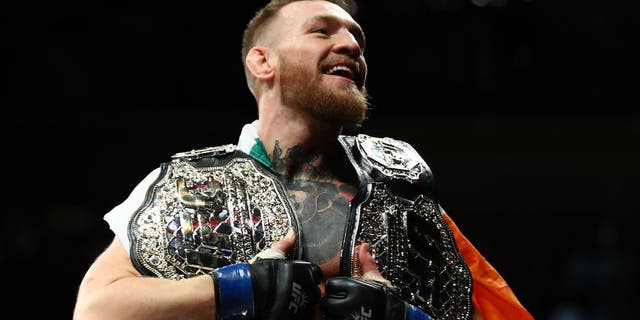 NEWYou can now listen to Fox News articles!
UFC president Dana White can't be sure what will happen when Conor McGregor meets Floyd Mayweather in a boxing match on Aug. 26, but he has an idea of the reaction will be depending on the outcome.
McGregor will step into a boxing ring as a professional for the first time ever when he faces Mayweather so it's understandable why most betting experts have placed him as a massive underdog.
Still, McGregor brings an interesting skill set to go up against Mayweather, who is widely regarded as one of the best boxers of all time.
At a Cannes Lions speaking engagement over the weekend, White spoke about the super fight and made his prediction of what would happen if McGregor actually pulls off the victory while also taking a jab at Mayweather's largely defensive posture through most of his recent bouts.
"Listen, if McGregor knocks him out he'll be the biggest star in sports ever," White said. "If Mayweather turns this thing into a track meet and runs away from him, whatever happens, I dont know.
"I dont know what the outcome or the answer is when this thing's over, but what the hell, we're going to give it a shot and see what happens."
McGregor vs. Mayweather is expected to generate mind blowing numbers in total revenue between live gate, sponsorships, merchandising and pay-per-view.
There's still no word on the pay-per-view price, but the event will likely sit around the $100 mark, which will be similar to what fans paid to see Mayweather fight Manny Pacquiao in 2015.
There will be no definitive word on how lucrative this fight will be until well after Aug. 26, but White says bluntly that this will be "the biggest fight ever in the history of combat sports."