Dan Campbell nixes criticism of Dolphins being 'too physical'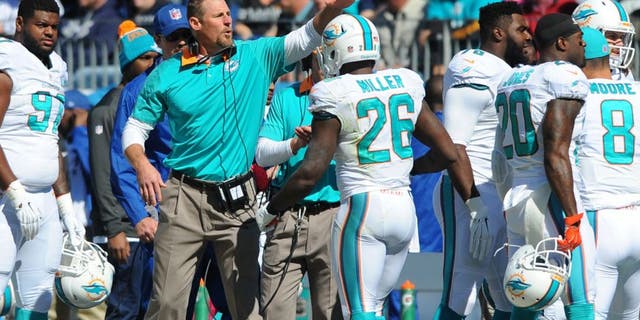 NEWYou can now listen to Fox News articles!
Too physical? That's not possible, according to Dan Campbell. Christopher Hanewinckel USA TODAY Sports
For the first time all season, the Miami Dolphins looked like a physical football team on Sunday and it's no coincidence that it came in Dan Campbell's debut as interim head coach.
Campbell infused a new-found toughness into his players, and it showed on Sunday. The Dolphins rushed for a season-high 180 yards, while they also recorded six sacks -- five more than they had all season. However, the Titans were reportedly unhappy with just how physical the Dolphins were.
According to Jason Cole of Bleacher Report, the Titans think the Dolphins were "too physical" under Campbell. Needless to say, Campbell brushed off the criticism and strongly disagreed with it.
"There's no such thing," Campbell said via Andrew Abramson of the Palm Beach Post. "I don't see that. I don't see how that's even possible. There's a time to play conservative and there's a time to play aggressive, Yesterday was a time be aggressive.
"The intensity, the speed that we played with was what I hoped we would get. We played faster. Guys on sideline, you could feel it."
What may have led the Titans to believing the Dolphins were too physical is the hit of Olivier Vernon on Marcus Mariota. It's been deemed a controversial hit because it was on Mariota's legs, but he wasn't flagged for the play.
With the way the Dolphins played -- and dominated -- against the Titans, it's clear Campbell wants his team to play that way every week. They're 2-3 and last in the AFC East, but the season isn't over yet. Campbell just doesn't want his players to get too ahead of themselves and not continue to play with that type of physicality.
"We've been notorious for that around here," he said. "We'll get a big win and then there's a lull."
The Dolphins take on the Houston Texans next, and it will be interesting to see if they're able to replicate this outstanding performance.
MORE NEWS: Want stories delivered to you? Sign up for our NFL newsletters.