Dale Earnhardt Jr. ruled out for Indianapolis, Jeff Gordon in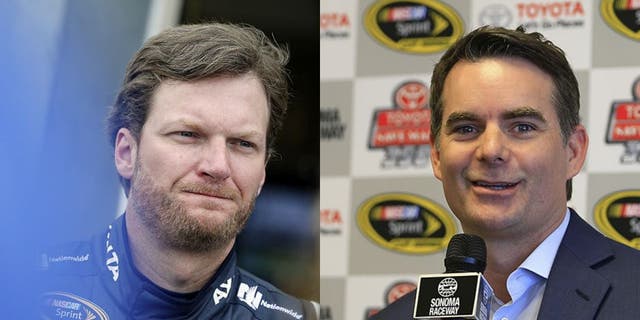 NEWYou can now listen to Fox News articles!
In a move that surprised virtually no one, Hendrick Motorsports made it official Wednesday that Dale Earnhardt Jr. has not been medically cleared to drive in this Sunday's NASCAR Sprint Cup Series race at Indianapolis Motor Speedway. Nor will he drive in two races time at Pocono.
Jeff Gordon, who retired as a full-time Sprint Cup driver at the end of last season and now works as a NASCAR analyst for FOX Sports, will replace Earnhardt in the No. 88 Chevrolet at Indy and Pocono.
It will be the second consecutive race Earnhardt has missed after being diagnosed with "concussion-like" symptoms following recent wrecks he was involved in at both Michigan and Daytona.
This is at least the fourth time in Earnhardt's career that he has suffered from a concussion or concussion-like symptoms, which this time he described in great detail on a podcast on his website earlier this week.
"I know there's probably a lot of speculation about what type of injury or symptoms I'm dealing with," Earnhardt said on the podcast. "My mind feels real sharp. I took the impact test, which measures thought process and the speed of your thought process, and memory and retaining memory, and my results matched my baseline (test results), which made me feel confident that my brain was pretty sharp. It feels good.
"The symptoms that I have are balance and nausea. So I've struggled with my balance over the last four or five days, and I definitely wouldn't have been able to drive a race car (last) weekend (at New Hampshire). So making the right decision really was out of the question. I made the decision that I had to make."
Then Earnhardt hinted that he likely would not be able to get back in the car by Indy.
"I'm going to continue to work with my doctors to understand more about the injury and how to treat it," he said on the podcast. "They can give me a lot of exercises that will re-train my brain to handle what I need to handle. It's just going to take a lot of patience.
"I put my health and quality of life as a top priority. And I'll always do that. So I'm going to take this slow and strictly follow the advice of my doctors, and try to learn as much as I can to be smarter and wiser. It's always been a real experience going through this kind of stuff because you learn so much through the experience. I've got some great doctors to learn from."
Earnhardt added in his podcast that he expects to return to the car at some point, and thanked everyone for their support during what obviously is a difficult time for him.
"I miss everybody. I really appreciate all the support that I've gotten," Earnhardt said. "It's really unnecessary, but it really does make me feel good.
"I have to be honest. To hear everybody wishing me well really, really does my heart good. This kind of thing can beat you down and get you sad, but I've got a lot of good people around me, a lot of people supporting me. I hope we can get back at the track soon."