D-backs put Miller on DL with elbow inflammation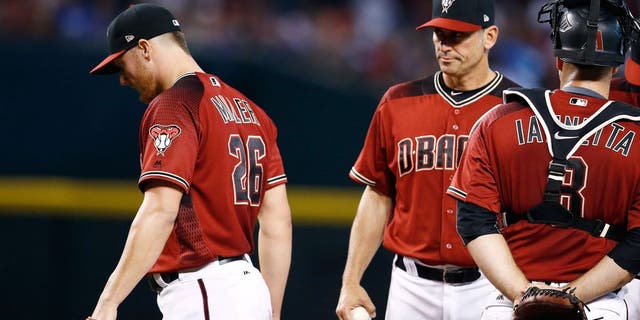 NEWYou can now listen to Fox News articles!
PHOENIX -- The Arizona Diamondbacks have placed right-handed starter Shelby Miller on the 10-day disabled list with right elbow inflammation.
Off to a good start after an awful 2016 season, Miller left in the fifth inning of Sunday's game against the Los Angeles Dodgers.
He had thrown four scoreless innings but walked the first two batters in the fifth and allowed a double. Miller threw one more pitch, then was removed.
Miller is 2-2 with a 4.09 ERA in four starts.
Neither the pitcher nor manager Torey Lovullo was very forthcoming about details of the injury. Miller said he will travel to Los Angeles on Tuesday for a second opinion from Dr. Neal ElAtrache, a noted specialist in sports knee and elbow injuries.
Lovullo said the MRI conducted Monday showed inflammation.
"What that second opinion will do is allow us to get more information without speculation," Lovullo said. "When that happens, I'll be able to give you more of an answer."
Speaking before Monday night's game against San Diego, said the doctor did not provide him to a lot of details.
"Just kind of looked at the MRI a little bit, saw something was there, some inflammation and stuff," he said.
If a tear or partial tear is found, surgery might be necessary.
"I guess there's some kind of chance," Miller said.
Lovullo said he hasn't decided who will take Miller's spot in the rotation. Miller's turn comes up Friday at home against Colorado. Archie Bradley could be shifted from the bullpen, but his success as a reliever may cause Arizona to bring up a starter from the minors.
Miller was acquired in a much-criticized trade with Atlanta before last season, sending outfielder Ender Inciarte and two top prospects -- No. 1 draft pick Dansby Swanson, right-handed pitcher Aaron Blair -- to the Braves.
Miller went 3-12 with a 6.15 ERA. He came into spring training with a fresh attitude after an offseason of work.
"Extremely unfortunate for Shelby and for this organization," Lovullo said. "He's worked so hard to get back on his feet again. He was throwing the ball very, very well, but we understand these things happen."
Arizona recalled right-hander reliever Silvino Bracho from Triple-A Reno to take Miller's roster spot. Bracho is 0-1 with two saves with a 0.00 ERA in six appearances with the Aces. He has struck out 12 and walked one. The one run he has allowed was unearned.