CUP: Keselowski Needs A Talk With Montoya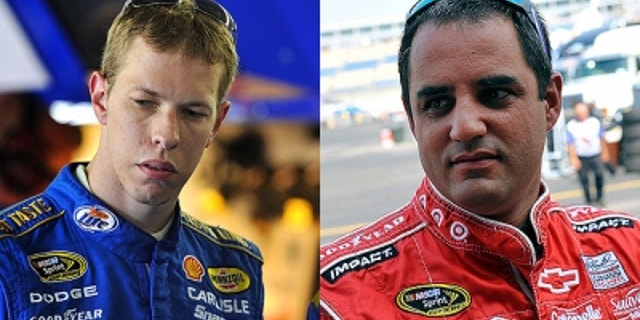 NEWYou can now listen to Fox News articles!
What's the only thing standing between Brad Keselowski and being a serious contender for the NASCAR Chase to the Sprint Cup?
Juan Pablo Montoya.
There's no doubt that "Bad Brad" can get the job done. Keselowski and the No. 2 Penske Racing Dodge put on a clinic over the final 56-lap green-flag run at Kentucky Speedway Saturday night as he held the point to the finish and his third win of the year.
The team proved that under duress – and in 100-plus degree heat – they were able to persevere. Heck, even Keselowski's steering wheel breaking just moments before the race started couldn't unhinge the crew.
However, before he enters the Chase, Keselowski must first mend his rift with Montoya. As of Saturday, Keselowski admitted he "tried to, (Montoya) didn't want to talk."
Regardless of what set off the chain of events between the two drivers during Sprint Cup practice on Friday, Montoya has a long memory. And the former Formula One winner has proven his ability to exact revenge at the most inopportune times. Tony Stewart can attest to that. So can his driver Ryan Newman.
Yes, Keselowski, you subscribe to a high code of honor. You don't want to be "pushed around."
"I don't like that," Keselowski said after the race. "I hate that. I can't stand it, and I won't stand for that. I can't stand it."
That's admirable. But Montoya, who is 21st in the points standings and without a shot of making the Chase, doesn't care about that code. He doesn't care that you drive for Roger Penske or that you have 275,000-plus Twitter followers.
All Montoya cares about is settling the score.
No, he couldn't catch Keselowski on Sunday night – no one could. Montoya posted a solid charge at Kentucky, coming from 30th to finish 14th. But he was never in the same zip code. However, the day could come when that No. 42 is looming large in Keselowski's rear-view mirror.
Now, if the situation can be settled – and the sooner the better – it won't be a problem. If not, it might be the No. 2 car that's really carrying a target on it.
Here are 10 other topics to keep an eye on in the coming week.
1. The Carl
It hasn't been a year since Carl Edwards signed a hefty new contract. However, his current performance doesn't equal the bump Edwards received in compensation. For Edwards, it's now been 50 races since his last win. He's 11th in the points standings – 34 points behind Brad Keselowski and with just an eight-point lead over 12th-place Kyle Busch. Without a victory, he's currently fifth in the wild-card standings. After finishing 20th on Saturday after a miscommunication in the pits, Edwards acknowledged, "me and (crew chief) Bob (Osborne) are getting divided," but added "we just have to stick together as a team."
Apparently, he and Osborne discussed the issues last week. And Edwards addressed the whispers questioning his resolve. "I hear it all," Edwards said. "I hear everything. I hear, 'He is focused on the booth, he is tore up over Tony (Stewart's) deal last year, he needs a new crew chief.' None of that is true. We are having some bad luck and some bad communication here. We can do this together. We could divide right now or we could come together. I have the best crew chief in the business and he proved it at the end of the year last year. We got beat on a crazy call by Darian (Grubb) and those guys last year and we need to get going."
With just nine races before the Chase for the Sprint Cup, time is running out for the team that seemed destined to win its first championship last year.
2. Let's play the feud
Yes, there's a history between Ryan Newman and Joey Logano that stems from last summer's race at Michigan. However, the incident between the pair at Kentucky was exacerbated by the No. 20 car restarting without fresh tires and Newman making contact through Turns 3 and 4. Newman did not take kindly to the 22-year-old's racing.
"He raced me really poorly and lack of respect-wise," Newman said. "That doesn't go very far with me (as) you can see from my past I react to that."
Newman followed that Logano might need to be taught a lesson and he "might be the one to teach him." What makes this situation more volatile is both are in a contract year and are tied in points for the second wild-card spot along with Kasey Kahne. However, Kahne wins over Newman and Logano on a tiebreaker. Logano's boss, Joe Gibbs, said on Saturday that he's committed to the young driver. And Stewart-Haas Racing sent out a similar statement via Twitter: "For the record, SHR is negotiating with 1 driver & 1 driver only for 2013 and beyond. His name is @RyanNewman39." Still, I would not want to miss the opportunity to watch these two drivers next week at New Hampshire.
3. Junior!
There's no doubt that NASCAR's Most Popular Driver is also a perennial favorite at Daytona. And since the weekly mantra has changed from "this could be the week" to "when are you going to win again?," after finishing fourth on Saturday, Earnhardt acknowledged, "When you win a race you want to win more." Certainly, the fans would concur. Plus, with just 11 points separating him from points leader Matt Kenseth, imagine if there was an Earnhardt atop the standings? If Junior should take over the points, it would be the first time he has led the standings since after his win at Talladega in the fall of 2004. Alas, Junior didn't hold the lead for long. NASCAR fined the driver 25 points for using obscenities in the postrace interview and Kurt Busch took over the lead as a result.
4. Way to adapt
Some competitors pointed to Hendrick Motorsports as having an unfair turning advantage in the corners prior to NASCAR's changes to the sway-bar mounts. However, the new rules regulating that didn't affect the Hendrick teams' performances at Kentucky, where all four teams finished sixth or better.
5. Getting ahead of the problem
Matt Kenseth "didn't mean to" run into AJ Allmendinger at Kentucky. But with the championship on the line, Kenseth made a point of having spotter Mike Calinoff diffuse a possible situation with Allmendinger's spotter before it got out of hand. The drivers were racing aggressively following the second caution and Allmendinger made it clear on the radio that he wasn't pleased with Kenseth's actions. Rather than letting the situation escalate, Kenseth's cooler head prevailed. With the race at New Hampshire Motor Speedway a week away, there's no time like the present to mend fences.
6. Momentum buster
Coming off the high of winning at Sonoma, Clint Bowyer became collateral damage in the Ryan Newman/Joey Logano dustup Saturday. It's a shame because Bowyer had been running in the top five prior to the altercation but dropped to 32nd and fought back to 16th. Although he remains seventh in the points standings, his teammate Martin Truex Jr. now trails Bowyer by just one point. The good news is Bowyer has been stellar on restrictor-plate tracks – more so Talladega than Daytona, where he has a streak of five top 10s including two wins. He finished 11th with his new team in the Daytona 500. And the tour returns to New Hampshire on July 13, a track where Bowyer has two victories in 12 starts.
7. A night at the beach
Greg Biffle could also use a lift at Daytona after a mediocre run at Kentucky. Unlike Bowyer, Biffle had no excuse other than, "we were off a little bit and just couldn't get a handle on it." Entering Kentucky, Biffle's record on intermediate tracks this year was stellar -- one win and top-five finishes in all four starts. While his prowess on 1.5-mile tracks will prove beneficial in the Chase for the Sprint Cup, Saturday night's 21st-place run knocked him from second in the points standings to fourth. The good news for Biffle? He finished third in the Daytona 500 and has a win in the Coke Zero 400.
8. Dodge ball
Potential Dodge teams apparently have been issued a gag order. And both Dodge and Penske Racing felt the need to squelch rumors over the weekend and issue statements. From Beth Paretta, director of marketing and operations for SRT Brand and Motorsports, Chrysler Group: "While we continue to evaluate plans in NASCAR for 2013 and beyond, we have no commitments with any partners at this time." Penske Racing president Tim Cindric said the organization "has not sold its engine company." SRT will have an announcement this weekend at Daytona but apparently it's regarding the Viper brand.
9. Git 'er done
Team owner Joe Gibbs took a page out of Rick Hendrick's book and re-signed driver Denny Hamlin a year before his contract actually expired. If an owner has no intention of letting a driver get away, this practice is optimal for building confidence in a team and limiting distraction.
10. The case for Jacques Debris
Speedway Motorsports Chairman O. Bruton Smith suggested the need for artificial cautions to bunch up the field and stimulate drama. "That creates action," Smith said. He added that fans didn't want to sit around "with nothing happening." Apparently, crew chief Tony Eury Jr. had a similar thought on Saturday night when Austin Dillon was spanking the field. Spotter T.J. Majors radioed, "They're looking for debris." Eury replied, "With a 16-second lead, you'd think they'd already found it." NASCAR is in a tough situation here. For years, the fans railed against the sanctioning body, begging for cameras to identify the debris on the track when there was a flag sans accident. When I suggested Figure 8 racing to Smith, he countered, "That's so old-fashioned."