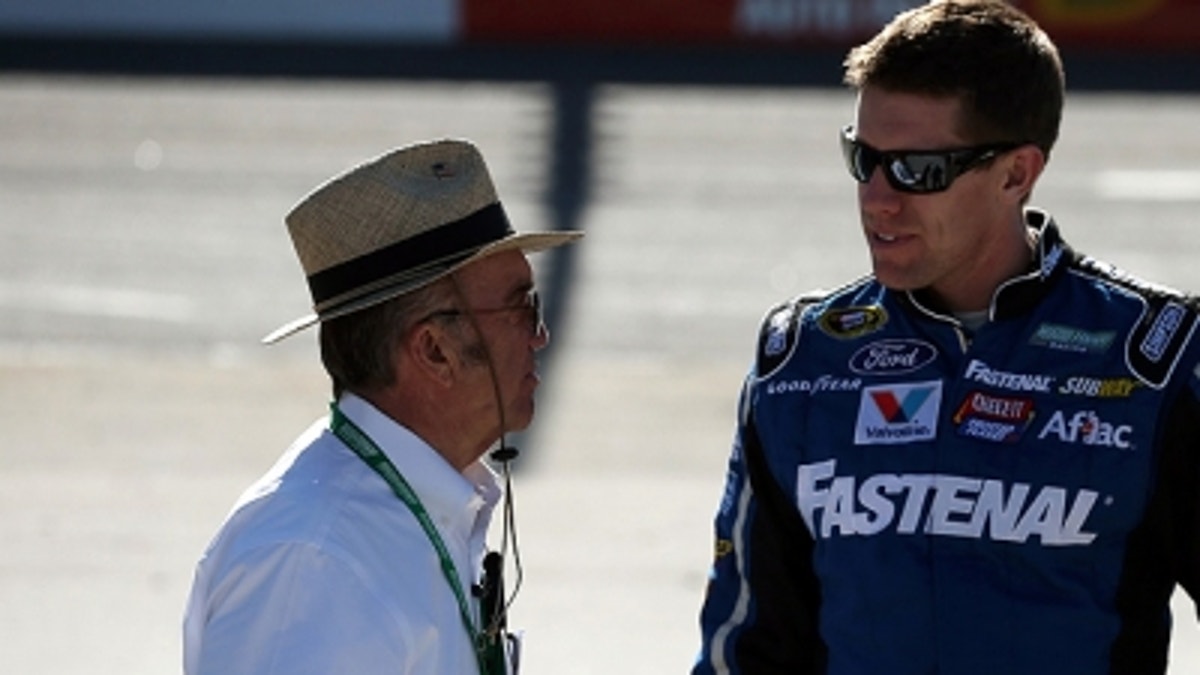 The numbers stack up well for Carl Edwards this week at Texas Motor Speedway.
No one has won more Sprint Cup races at TMS than Edwards, who has three. He swept the track's Cup races in 2008 and also won in 2005.
Edwards' team, Roush Fenway Racing, owns nine wins at the track, easily the high. Hendrick Motorsports is next with four.
Edwards, Greg Biffle, Matt Kenseth, Jeff Burton and Mark Martin have scored wins for Roush at Texas.
Biffle won last spring's race with relative ease. Edwards finished eighth.
"I love racing at Texas because everything about the race track is fun," said Edwards, who enters Saturday night's 500-miler seventh in points. "The crowd is amazing every time we go. … It's one of the fastest race tracks we go to, and our No. 99 team has had huge successes there.
"It's one of the most fun victory lanes in NASCAR. It just seems like everybody's having a blast at Texas. We're hoping for our second win of the season and fourth at Texas Motor Speedway. It's going to be an awesome 500 laps under the lights of Texas. It's an awesome race; it's a dynamic race.
"It's going to be a tough one on the crew chiefs and engineers to get these cars perfect in the night-time conditions because we don't get to practice like that. It's going to be a tough race from start to finish, but I've got a great crew and crew chief, so hopefully we can perform the way we want to."
Edwards has one win and three top fives in the six Cup races to date.
Edwards might get a touch of a momentum boost tonight as long-time team owner Jack Roush is inducted into the Texas Motor Sports Hall of Fame. He has victories in all three major NASCAR Series (nine Cup, eight Nationwide and one Truck) at the track.
"I'm honored with the induction," Roush said. "I stand with the success I have had in nearly 40 years of being involved in racing, while going coast to coast and border to border with my various types of race cars. I've benefited greatly from the experience and judgment of the people around me – people that brought their passion, enthusiasm, experience, judgment, support and commitment to our programs and made it possible for us to have the type of success where we can be recognized for our accomplishments throughout the years."
Mike Hembree is NASCAR Editor for SPEED.com and has been covering motorsports for 31 years. He is a six-time winner of the National Motorsports Press Association Writer of the Year Award.