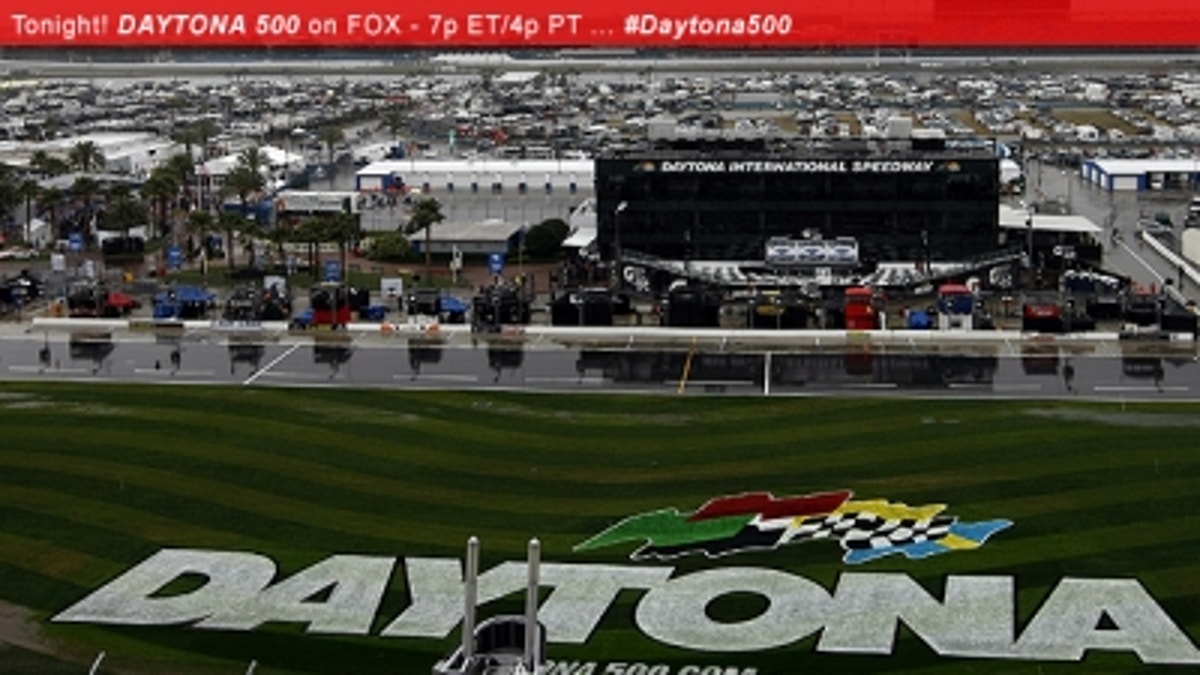 NASCAR President Mike Helton said Monday morning that the start of the Daytona 500 has been postponed until 7 p.m. ET tonight. FOX will televise the race live.
According to weather.com, the forecast at Daytona today is a 65 percent to 100 percent chance of rain up until 3 p.m. ET. At 3 p.m., the chance of rain drops to 30 percent and then down to 20 percent at 6 p.m.
Drying the track takes about two to three hours, which makes 7 p.m. a realistic start time.
It is NASCAR's intention, Helton said, to run the Daytona 500 to full distance. If weather continues to interfere, Tuesday is still an option. No matter when it ultimately gets run, it will be televised on FOX.
"We hope to have 'lady and gentlemen, start your engines,' at 7:02 (p.m.) and then warm up and go to green flag," Helton said Monday morning at Daytona International Speedway. "We believe this is a reasonable expectation, and we also believe in a modern world with the technology that we have to interpret weather, forecast it and try to stay on top of it within a reasonable amount of time, that having everyone sit around and wait for several hours today up until the point where we're confident or have more confidence that we can run the race was more prudent to do it this way."
After yesterday's rainout, the original plan was to run the race at noon today. But more rain made that impossible.
"The last thing we wanted to do was have our fans wait through another long day of rain delays and jet dryer activity," said track President Joie Chitwood III. "So we felt like this gives them some clarity so they can come up with their plans, and hopefully that means stay at home, stay at their hotel, rest, whatever it is they need to do and they can come out and enjoy the event this evening."
While the weather is expected to clear, the Daytona 500 could be run as late as tomorrow.
"Tuesday is an option," Helton said. "We're focused on today and this afternoon right now, but just so everyone knows, Tuesday is an option before we'd have to reconsider packing up and leaving. But tomorrow is an option."
For the teams, racing Tuesday would be a logistical challenge, since they have to be in Phoenix on Friday.
"I was just looking at the schedule earlier today and we aren't on track until midday Friday," said Daytona 500 pole-sitter Carl Edwards. "If we were to put this out until Tuesday then it would be real tough but I am sure it will be fine. We have guys that can do it. I know our Phoenix stuff is ready to go and I think there might be an issue with some of the engines, especially with our FR9's. You would have to ask Jack (Roush) but I know it was tough for Doug Yates and those guys to get the amount of engines ready for these first two races, so I am sure they will be running engines back and forth and turning things over."
Tom Jensen is the Editor in Chief of SPEED.com, Senior NASCAR Editor at RACER and a contributing Editor for TruckSeries.com. You can follow him online at twitter.com/tomjensen100.