CUP: Crew Chief Grubb Back In Victory Lane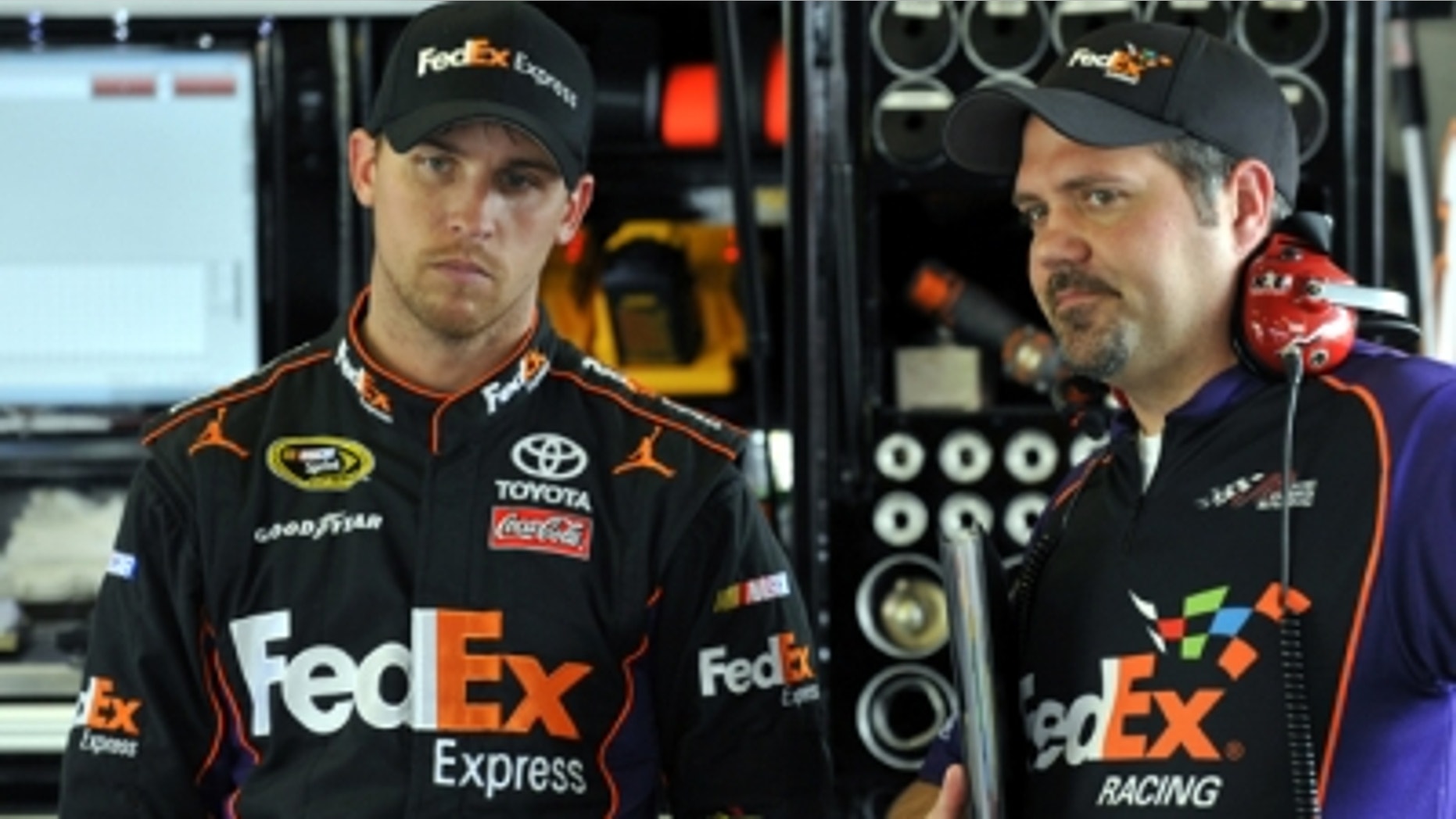 Crew chief Darian Grubb changed pit boxes over the winter, but that didn't change his ability to win.
Grubb knew from the start of the 2011 Chase for the Sprint Cup that he was going to be relieved of his duties with the No. 14 Stewart-Haas Racing team, but still led the team to the Sprint Cup championship with Tony Stewart. It didn't take him long to land with another championship-caliber team, the No. 11 Joe Gibbs Racing squad and driver Denny Hamlin.
In their second NASCAR Sprint Cup points race Sunday at Phoenix International Raceway, Grubb exhibited his leadership skills by ending Hamlin's 22-race losing streak and returning the team to the top of the points standings for the first time since November 2010
"I guess you could say it is a little bit of vindication, but I really don't think that way," said the ever-humble Grubb. "I try to just think the high road all the time. I feel like I came into a very good situation. (Former crew chief) Mike Ford built one heck of a team here with the 11 car, and the FedEx Toyota is obviously really strong — (the) Joe Gibbs organization is very strong.
"I've got a lot of friends in both organizations, but I'm proud to come in here and lead this bunch of guys, and even just guys like (mechanic) John Furino, who's actually at home now; his father passed away, he left Phoenix to go back, and we dedicated this win to him because he's a big part of it. We're a united team. We're working together that way, and we are just going to keep doing it."
While no one in the Joe Gibbs Racing outfit will deny Ford's contribution to the No. 11 team — 17 wins and six Chase berths in six seasons — it was clear after last season the chemistry between driver and crew chief had evaporated. Hamlin says the pair remain good friends and may one day work together again, but after 2011 it was time for change.
For Hamlin to earn the win at Phoenix was almost cathartic. It was here that Hamlin last led the Sprint Cup points standings in November 2010. And it was here that the breakdown of the No. 11 team began before spiraling into disarray last season.
"Last year, we just never got going," Hamlin said. "Yeah, maybe there was a hangover effect for the first half of the year. You can claim that. But it didn't have anything to do with how bad I ran the last 10 races. We just didn't have it all together.
"But we've made some good changes within our organization. Obviously partnering with TRD with our engines, having a common engine amongst all the Toyota cars is going to be a big plus. So we've still got work to do. I'm still going to push for more and more and more things within our race car. That's the attitude you've got to have to stay on top."
Hamlin's attitude has changed dramatically since 2011. Hamlin acknowledged that he was "just as weak a link as anyone" else on his program last year. So he took the offseason "to improve" himself and recharged his batteries up the road in Scottsdale.
"What I needed to do to make myself better is what I did, and that was just get away and not even think about racing for a while," Hamlin said. "But when it came time to get to the racetrack, my focus is solely on winning races and winning a championship, and I'll do anything it takes to do that. It's just my way of doing things. It's what I needed to do to improve my driving and my focus."
For years, Grubb has prepared for this opportunity, first under the Hendrick Motorsports banner and for the last three seasons with Stewart-Haas Racing. During his tenure with his previous organization, Grubb learned what it takes to win titles. And while his teammates and the cars might look a little different, Grubb says, "it's still the same job."
"Luckily they have a very strong organization already," Grubb said of the Gibbs group. "I don't need to change any of those things; it's coming in and learning the people and learning how to get the best out of all those individuals, and the pieces and parts are there."
And Grubb could be the missing piece that Hamlin's been searching for all along.
Growing pains
As predicted before the season began, a premier race team experienced issues with electronic fuel injection.
Not surprisingly, it happened Sunday. Perhaps the greater shock was that champion Tony Stewart was the driver who got bitten. During the sixth caution of the race, on Lap 247, Stewart cut off his ignition to conserve fuel, but couldn't get the car restarted on the backstretch. Eventually, a safety vehicle came to Stewart's rescue and pushed him to pit road.
"I just shut the car off like I did at Daytona to save fuel and it never refired," said Stewart. "That's all I can tell you. I honestly don't know, it's not my department. I turned the switch back on and it never refired. I don't know why that was, but it definitely cost us a good day."
Stewart lost two laps on pit road while the team tried to solve the problem. The crew later discovered a parts failure that shut down the fuel injection system. Stewart finished 22nd and dropped to 15th in the points standings.
Greg Biffle says Stewart won't be the last driver "to have an issue" with the electronic fuel injection as teams continue to acclimate to the system.
"There is going to be growing pains with this system," Biffle said. "It hasn't even been hot yet. Wait till it gets hot like at Indy and some of these other places. We don't know how much heat these things can handle, and that may be an issue at some point.
"... There are all kinds of technology. You can't cycle the battery switch because it will go into boot mode."
Joey Logano experienced similar issues with his EFI at Daytona International Speedway when shutting off his car, according to Grubb.
"That's something we're all learning as we go — a weekly process," Grubb said. "I feel like the Toyota and TRD guys have done a good job informing us of how those things work, and we're still learning every week.
Best comeback
Jimmie Johnson proved again why he is a five-time champion.
Johnson led 55 laps early. And even after a loose lugnut during the Lap 133 pit stops knocked his No. 48 from fourth to 24th — the last car on the lead lap — Johnson climbed back to fourth in the final 172 laps.
"I'm not really satisfied," Johnson said. "I really felt like we had a car to win the race with. Unfortunately, things didn't work out there. We had a little hiccup early in the race, but we still rebounded back and got a very strong finish.
"So I am proud of the fight this team has and the race car we brought to the track, and I passed a lot of race cars on a track that's tough to pass (on) and still got back to fourth."
Johnson provided some of the best racing in the closing laps as he battled both Brad Keselowski (fifth) and Kyle Busch (sixth) for position.
Numbers game
4: Engines blown in the Subway Fresh Fit 500 — those of Jamie McMurray, Marcos Ambrose, David Reutimann and Jeff Burton
7: Cautions for 35 laps
25: Lead changes among 15 drivers
88: Most laps led in the race (Kevin Harvick)
Say what?
Matt Kenseth led a lap early but developed a loose condition and had problems with his brakes. Still, Kenseth salvaged a 13th-place finish, but had difficulty leaving Phoenix. After the race he tweeted:
"am dying to get home and see my sweet wife and kids....now airplane is broke! I'm wondering if I will ever get to go home!"