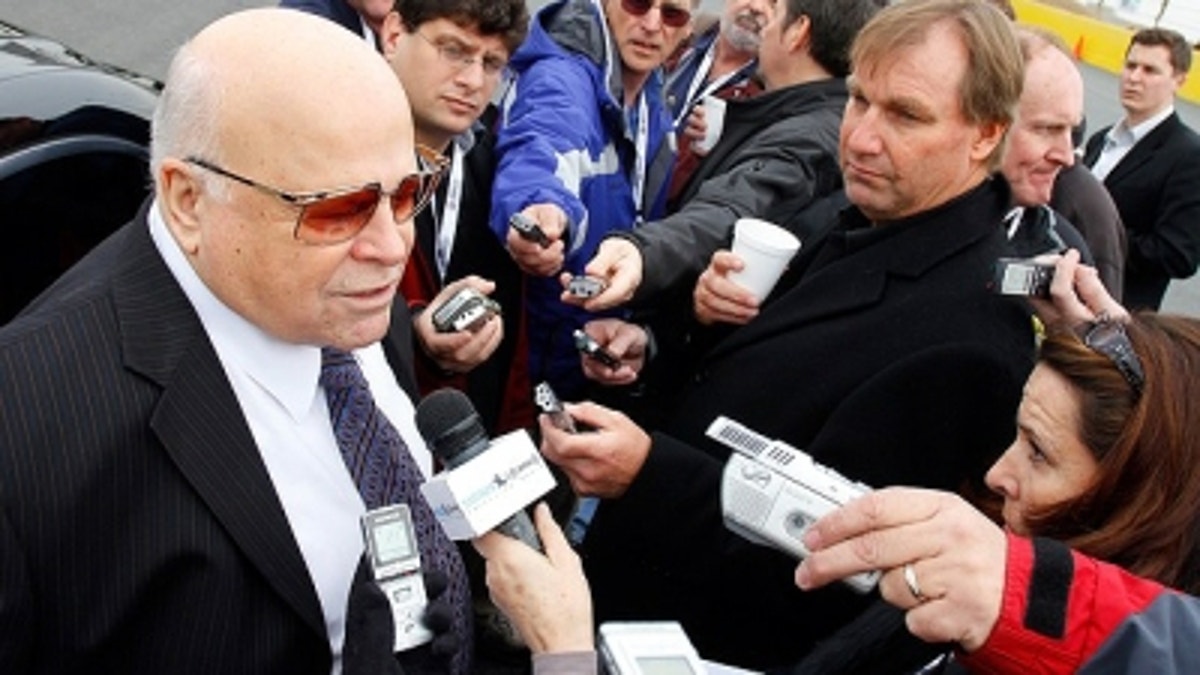 Changes could be coming soon to Bristol Motor Speedway as track owner Bruton Smith says that he was embarrassed by Sunday's crowd at the Food City 500.
Smith, the chairman and majority owner of Speedway Motorsports Inc., which owns the track, said that thousands of fans have contacted the company about Sunday's race and that more than 70 percent want the half-mile track reconfigured and returned to the design from a few years ago.
NASCAR estimated the crowd at 102,000 but most media reports indicated that the 158,000-capacity stadium was only about half full.
After selling out almost all of its races from the mid- to late-90s through 2006, attendance has plummeted in recent years. Many have attributed the decline to changes to the track surface that have led to a new, less dramatic style of racing. The 0.533-mile concrete oval was reconfigured with progressive banking and resurfaced in 2007, creating multiple racing grooves and allowing drivers to race side by side instead of the physical bumper-to-bumper action fans had become accustomed to.
SMI began polling fans Monday on why they weren't coming to the track, and many indicated they wanted more beating and banging and a return to the old-style racing.
"They want the old track," Smith said in a phone interview Tuesday. "It was 70-some percent the last time I checked. … I'm almost there in making a decision. We've got to be sure that we have appeased these race fans.
"We want to be sure that we are now making a change and giving them what they want."
Smith will have to decide soon on how to change the track. He has committed at least $1 million for the change and said he has the exact blueprints on the track's previous design. He said the change would not include any sort of grinding of the track surface to get back some of the old character.
NASCAR likely would need to test at the track about six weeks prior to the August 25 night race in order to make sure Goodyear builds the right tire for the event.
Smith said SMI could reconfigure and repave the track in about 90 days.
"We're not making an announcement yet," Smith said. "I've got four of my engineers working on this thing. We reviewed it a little bit [Tuesday] but will do more on Thursday.
"We'll get it all nailed down so we can reach a decision. We're going to answer to the fans, and if this is what they want, this is what we'll do. .… We'll approach it from all angles and come up with the right solution."
Bristol has not had as much trouble selling tickets to its night race in August, but Smith said that fans have complained about the new style of racing, which he says was created from a combination of the reconfigured track and the type of tire used.
"We've been listening and the complaints seem more and more and louder," Smith said.
After the race, winner Brad Keselowski proclaimed that he liked the new Bristol. But Smith said that drivers don't like the fact that while they can run competitive speeds in the outside groove, they have trouble passing there.
"I've not heard from one driver that says, 'Leave it like it is,'" Smith said. "Not one."
Smith added that rain on Saturday night and Sunday morning impacted ticket sales. He said that 8,120 tickets that were sold were left unused, which he believes was a result of the weather.
"I was really embarrassed with the crowd that we had, or we didn't have," Smith said.
Fans can email comments about the track to input@bristolmotorspeedway.com or on Twitter to SMI executive Don Hawk at @HawkSMI.