CUP: Auto Club Speedway Power Rankings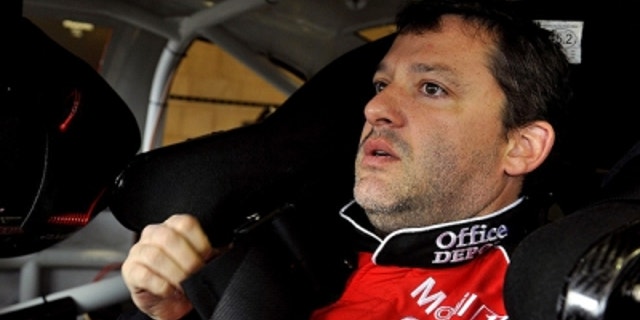 With his resounding victory in the Auto Club 400, Tony Stewart takes over the top spot in this week's FOXSports.com/SPEED.com Power Rankings.
This week's list:
1. TONY STEWART — Seven victories in the last 15 NASCAR Sprint Cup races for the reigning and three-time champion. As stout as stout gets. Last week: 11th.
2. GREG BIFFLE — Although he missed on the setup a little bit, Biffle finished a respectable sixth, the fourth time in six races he's finished that high. Last week: 1st.
3. KEVIN HARVICK — The closer couldn't repeat his 2011 victory at ACS, but finished a strong fourth. Last week: 3th.
4. DALE EARNHARDT JR. — Another impressive run for Junior, who is finally showing some fire in his belly this year. Last week: 9th.
5. MATT KENSETH — A pit-road penalty cost Kenseth dearly, as he ended the day way back in 16th place. Last week: 2nd.
6. MARTIN TRUEX JR. — An eighth-place finish meant Truex has scored three top-10s in the last four races. Last week: 4th.
7. JIMMIE JOHNSON — The No. 48 Hendrick Chevy started puking oil during the race's only caution, but Johnson nursed it home to a 10th-place finish. Last week: 5th.
8. DENNY HAMLIN — He qualified on the pole and topped both Saturday practices, but Hamlin was not much of a factor in the race, costing himself eight spots with a late-race pit stop. Last week: 8th.
9. KYLE BUSCH — After a slow start to the season, Rowdy finally looked the part, with a strong runner-up finish in his JGR Toyota. Last week: 17th.
10. CLINT BOWYER — He didn't run as well as he did in Bristol, but Bowyer brought home the No. 15 in the top 15 for the fourth time in five races. Last week: 10th.
11. RYAN NEWMAN — A seventh-place finish for The Rocketman was another good result and moved Newman into the top 10 in points. Last week: 14th.
12. MARK MARTIN — Despite sitting out Bristol, Martin is 17th in points after finishing 12th at ACS. Impressive. Last week: Unranked.
13. CARL EDWARDS — Although he finished fifth on Sunday, Edwards was never much of a factor in the race. Last week: 16th.
14. PAUL MENARD — It was not a great race for Menard, who finished 19th when the checkered flag fell. Last week: 13th.
15. BRAD KESELOWSKI — One of many drivers bitten by pit-road penalties, Keselowski finished 18th at a track where he has struggled. Last week: 6th.
16. JOEY LOGANO — While his teammates ran up front all weekend, Logano didn't, finishing a hugely disappointing 24th. Last week: 12th.
17. JEFF BURTON — Without question, Burton was looking for something better than a 22nd-place finish. He didn't get it. Last week: 15th.
18. JUAN PABLO MONTOYA — Seventeenth in the race, 18th in points. At least no jet dryers were harmed in Montoya's finish. Last week: 19th.
19. KURT BUSCH — The first top-10 of the year for Busch and Phoenix Racing was cause for celebration. Last week: Unranked.
20. KASEY KAHNE — Finally, a trauma-free weekend for Kahne, who cruised to a 14th-place finish. Last week: Unranked.
Tom Jensen is the Editor in Chief of SPEED.com, Senior NASCAR Editor at RACER and a contributing Editor for TruckSeries.com. You can follow him online at twitter.com/tomjensen100.