CUP: Auto Club 400 Notebook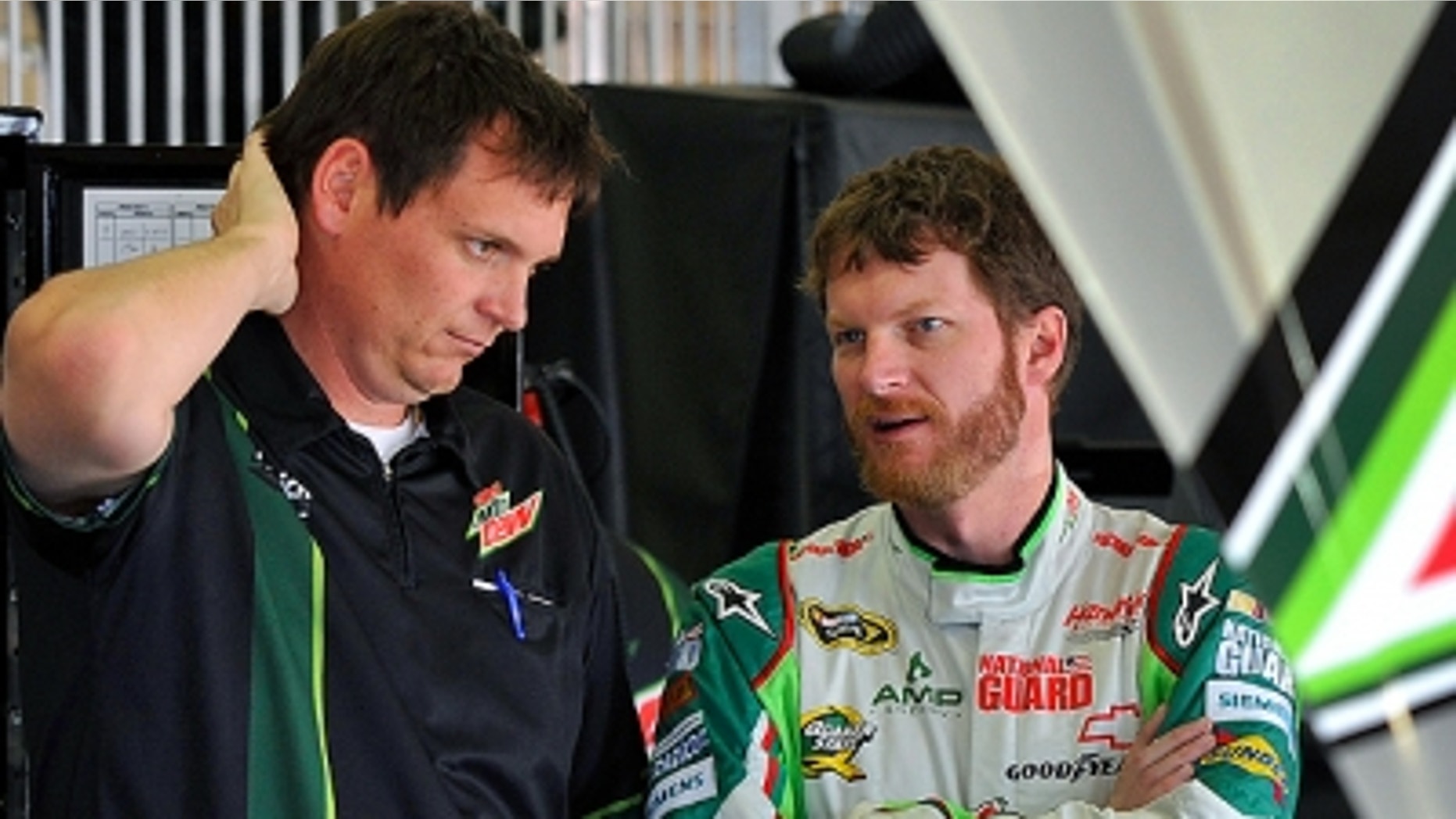 MIXED BAG FOR HENDRICK — Hendrick Motorsports had what can only be described as an erratic day in the rain-shortened Auto Club 400 at Auto Club Speedway. Dale Earnhardt moved to third in the NASCAR Sprint Cup points standings with an excellent third-place run, while Jimmie Johnson's golden horseshoe apparently still works.
Johnson's No. 48 Hendrick Chevy began spewing oil under the day's only caution, which came at Lap 125 and signaled the end of the race, due to rain, four laps later. Johnson was able to limp around for a lap on the bottom and hold on to a much-needed 10th-place finish.
"I really don't know what happened," said Johnson, who moved up to eighth in points. "I was just kind of idling along and my friends pulled up along side of me and were pointing and said, 'You're smoking,' and I heard it over the radio and I started to see it and smell it but I don't know what really caused it."
Earnhardt was running fifth when the caution came out and picked up two spots when cars ahead of him pitted.
"I was surprised that everyone didn't stay out," Earnhardt said. "I was pretty certain by watching the weather and studying the weather all night long and all day today that once it began to rain, it wasn't going to stop. I was surprised that some guys came down pit road and gave up track position."
So far, Earnhardt is enjoying a great start to the season.
"I'm really happy," he said. "I'm performing better. Most of the credit has to go to Steve (Letarte, crew chief) and the team. Those guys did a great job today on pit road. We had some really good stops. Steve is doing an amazing job. He deserves most of the credit for how well we're running. He's giving me really good cars, cars that are fun to drive, relatively easy to drive."
Kasey Kahne, who came into the weekend with his No. 5 Hendrick Chevrolet 34th in owner points drove a very conservative race, posting a 15th-place finish, so far his best of the season. It wasn't great, but it was what Kahne needed, moving him all the way up to 26th in owner points.
Poor Jeff Gordon had another miserable day, though. Gordon ran in the top five for most of the race, but consecutive pit-road penalties during his last two stops dropped him all the way back to 26th in the final order. First, on Lap 107, he carried the gas can outside of the pit box, which made him have to serve a stop-and-go penalty. Then, on Lap 126, the team had a tire roll outside the pit box.
"It was just not our day on pit road," said Gordon, who fell to a career-low 25th in points. "We're going to put a whole race together here. We're going to show ourselves and everybody else what we're made of, but it's been a struggle this year. We can achieve it, we just have a lot of work in the points."
BIG DAY FOR BIFFLE — Greg Biffle continues to show impressive form, finishing sixth in Sunday's rain-shortened Auto Club 400 at Auto Club Speedway to hold onto his NASCAR Sprint Cup points lead. Biffle now has four top-10 finishes in five races so far this season. That said, he left Southern California wanting a little more.
"I like this track but the last few times here we've been off just a tick," said Biffle. "Today, I didn't keep up with the track. I was a little bit too tight. I thought we were getting closer at the end because we started closing in on the 29 (Kevin Harvick), and then he got his car going. If they would have gotten the track cleaned off and going again, I think we would have had a chance because we're good on a cold, green track. When it gets hot and slick, we're not as good as they are."
TRUEX IN TOP 10 — Martin Truex Jr. wasn't thrilled with his Michael Waltrip Racing Toyota, but he managed an eighth-place finish, his third top-10 in the last four races, while teammates Mark Martin and Clint Bowyer finished 12th and 13th, respectively.
"We were a bit off at the start of the race," said Truex, who is now fifth in points. "We made some changes during Happy Hour and kind of missed it a little bit, but the guys worked hard on the NAPA Toyota. At one point there we were as fast as the leader for the whole run. You run 130 laps with no caution, it can kind of get strung out, but we were able to maintain and obviously stay on the lead lap. We started making some positions up after about Lap 80 or so. The very last run there we got too loose and we gave about two of the spots back.
Still, on balance Truex was pleased with the result. "Overall, it's been a decent day," he said. "This place was really tough on us last year. It's nice to come in here and have a decent run — something we can build on."
BUSCH BANKS FIRST TOP-10 — Kurt Busch and Phoenix Racing, who struggled through their first four races together, got something of a shot of redemption at Auto Club Speedway, where Busch finished ninth. It was his first top-10 with the team and only the 12th in 196 Cup races for the small, independent team.
"It was a nice solid finish at the end of the day for our Phoenix Racing Chevrolet," said Busch, the 2004 series champion. " ... You just have to be smart all day. The car's going back onto the trailer without a scratch on it with a top-10 finish. That's a first for these guys this year. Good adjustments are key. We did that two of our three stops. If we would've had more stops today, I know we could've gotten the car even better. So it's just a learning curve about things this team knows about this car that I don't, and things I know that the team doesn't know and all of us working together. It was a nice solid day and everybody is pumped about this finish."
Tom Jensen is the Editor in Chief of SPEED.com, Senior NASCAR Editor at RACER and a contributing Editor for TruckSeries.com. You can follow him online at twitter.com/tomjensen100.