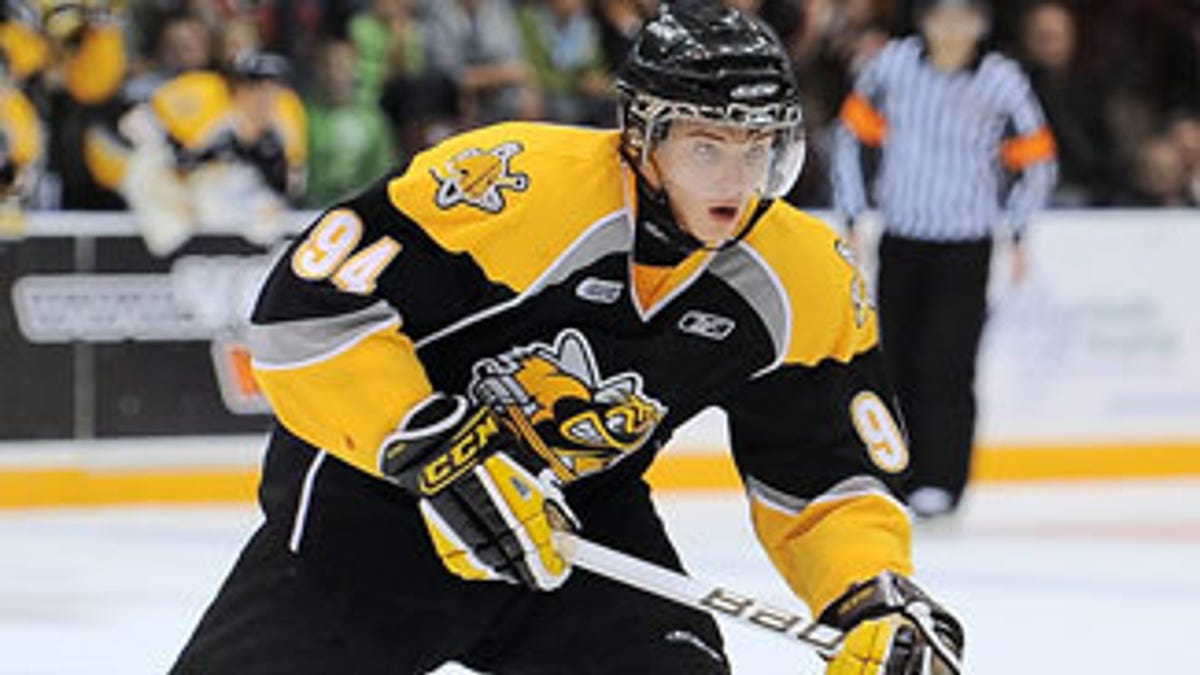 TORONTO -- Don't expect the gang from NHL Central Scouting to begin scheduling tee times once the final rankings of North American skaters and goaltenders are released next week.
All the end of one season really does is signal the start of another. When asked for their opinion of a few of the top 2012 Entry Draft-eligible prospects, the scouts had no problem dipping into their black books or calling up computer files. It's a never-ending cycle, really.
It gains steam upon completion of the final North American lists -- which will be released April 12.
According to the scouts, there seems to be an abundance of talent and future prospects from each of the five major leagues. Leading that list could be Ryan Murray, a 6-foot, 182-pound defenseman from the Everett Silvertips who already is turning heads in the Western Hockey League.
"He could have been drafted this year and done very well," Central Scouting's B.J. MacDonald told NHL.com. "You wonder if another year of major-junior would be beneficial. Next year will mark his third year in the (WHL) and he'll learn to be a leader. He's the captain of the team already, and really, I thought he should have been picked for Team Canada at the World Juniors -- he's that good.
"He's going to be high on everyone's list next year."
Murray is just one of five budding young defensemen starring in the WHL this season. MacDonald wouldn't be surprised to hear all their names called in the opening round of the 2012 Entry Draft either.
Here's the early scoop:
Western Hockey League
MacDonald and fellow WHL scout Peter Sullivan predict a banner season for the league's draft-eligible defensemen in 2012.
Murray, of course, leads the way. In 70 regular-season games this season, he had 6 goals (3 power-play goals), 40 assists, 46 points, a plus-18 rating and 45 penalty minutes. Murray had 27 points in 52 games as a rookie in 2009-10.
"He's really consistent, shows a lot of poise and handles the puck well," MacDonald said. "I think he knows how to manage the game -- he can sometimes dictate the flow of play when he's out there. That's hard for players to do at that young age. Obviously, he's wearing the 'C,' so that speaks about his character and obviously his coach, Craig Hartsburg, has been through the NHL and junior wars, so he must recognize the fact he has a leader there and he had no hesitation giving him that role."
The other four blueliners on the Central Scouting radar are Mathew Dumba of the Red Deer Rebels, a 5-11, 171-pounder who plays with passion and offers a tremendous shot; Derrick Pouliot (5-11 1/4, 185), who filled in for 2011 top defensive prospect Joseph Morrow for the Portland Winterhawks on several occasions this season; Griffin Reinhart (6-3 1/2, 202) of the Edmonton Oil Kings; and Morgan Rielly (5-11 1/2, 189) of the Moose Jaw Warriors.
"Rielly will lift you out of your seat," Sullivan said. "He's an exceptional skater; he skates as well as anyone that's ever played in the WHL. He twists and turns on a dime and is very exciting to watch."
Ontario Hockey League
The list includes two players from the Sarnia Sting -- center Alex Galchenyuk and right wing Nail Yakupov.
Yakupov, born in Nizhnekamsk, Russia, led his team and was fourth in the league with 101 points, and his 49 goals were third. The 101 points were the most by a first-year player in the league since Patrick Kane had 145 points and Sam Gagner had 118 for the London Knights in 2006-07. He also had the most goals for a first-year player since Kane had 62 in 2006-07.
Galchenyuk had 31 goals, including 10 on the power play, and 83 points in 68 games. He was second among all first-year players in the league in points and third in goals.
Central Scouting's Chris Edwards also likes what he sees in Windsor Spitfires defenseman Nick Ebert (5-11 3/4, 195), a native of Red Bank, N.J. In 64 games, Ebert had 11 goals and 41 points. His teammate in Windsor, left wing Brady Vail (5-11 3/4, 187) also is "very noticeable," according to Edwards.
Kitchener Rangers center Matia Marcantuoni also will command plenty of attention next season. "He's a very good skater, good skills and will definitely be one to watch," scout Al Jensen said.
Quebec Major Junior Hockey League
After having as many as six potential first-round picks in June, the well could run dry for the QMJHL in 2012.
"There are a few guys, but it's not as definite as it was this year," Central Scouting's Chris Bordeleau told NHL.com. "It won't be nearly as good, especially with the top-end guys, for sure. We know they're there for the future, but we don't really pay attention because we have to take care of business with the (1993-born players) first. We'll have to wait and see."
Still, Bordeleau did tip his hand in mentioning two players on his hot list for 2012.
Right wing Martin Frk of the Halifax Mooseheads had 22 goals (5 power-play goals) and 50 points in 62 games. Frk was also a key member for the Czech Republic at the 2011 World Junior Championship in Buffalo, N.Y., tying for the team lead with 3 goals, including 2 on the power-play. He also had 3 assists, 31 penalty minutes, 14 shots on goal and a plus-2 rating.
Jeremie Fraser, a 6-foot, 200-pound defenseman for the Acadie-Bathhurst Titan, had just 5 assists in 31 games, but did enough to make a believer out of Bordeleau. He expects an even better season from him in 2011-12.
Hockey East
Central Scouting's Gary Eggleston, who specializes in viewing prospects along the East Coast, feels center Cristoval Nieves (6-2, 175) of the Kent School in Connecticut might be a "first-round type of player."
Brian Hart (6-1 1/4, 190) of Phillips Exeter Academy in New Hampshire can play either center or right wing. He had 29 goals and 56 points in 27 games this season.
"He was the best underage forward in the Beantown (Classic) tournament held a couple weeks ago," Eggleston said. "He'll certainly be one of the top ones."
Eggleston also was high on 6-foot, 170-pound right wing Robbie Baillargeon of Cushing Academy in Massachusetts, pointing out his great hands and scoring touch around the cage. Baillargeon was one of the top point-producers in all of New England prep-school hockey this past season, totaling 30 goals and 64 points in 30 games.
Hockey West
The one player on every scout's radar is 6-1, 175-pound defenseman Jacob Trouba of the U.S. National Team Development Program.
"He'll come out as an 'A Watch' player out of our Futures List and then, in the early going, we'll determine how far up that list he'll go," U.S. scout David Gregory said. "This is a player who has a lot of ability and he played with the top national team even at the end of this season and didn't look out of place at all."
In 37 games with the Under-17 team, Trouba had 6 goals (4 on the power-play), and 19 points. He had 12 assists and 15 points in 14 international games. In 13 games with the U-18 Team, he had 6 points and 18 penalty minutes.
Central Scouting's Jack Barzee, who specializes in viewing players from the West, mentioned a pair of United States Hockey League performers to keep an eye on. Dubuque's Zemgus Girgensons (6-1, 182) had 20 goals (9 on the power-play), 47 points and a plus-8 rating in 48 games.
"Zemgus has good size, hands and good hockey sense -- he's a power forward," Barzee said. "He makes people around him better, and although a playmaker, he can also finish around the net."
Defenseman Jordan Schmaltz (6-2, 175), a power-play specialist, finished tied for second in scoring for Sioux City with 41 points. He also had 8 goals and 27 points on the power-play.
Fargo Force defenseman Brian Cooper might have a small frame (5-9, 180), but he still was a key cog along the Force's blue line this season. Cooper had 11 goals, 31 points and 130 penalty minutes (second on the team) in 49 games this season.
"He's a pretty dynamic player -- one of those John-Michael Liles types," Barzee said of Cooper. "He's one of the best coming out."
Two other high-profile names are Shattuck-St. Mary's Zach Stepan, the cousin of New York Rangers center Derek Stepan, and defenseman Clifford Watson of Wisconsin's Appleton United. Watson (6-1, 191) led his team in scoring with 40 points. He also had 18 goals and a plus-12 rating in 21 games while also chipping in with a team-leading 36 hits and 14 blocked shots.
Follow Mike Morreale on Twitter at: @mike_morreale