Crosby: 'Moments like that bring joy out of us'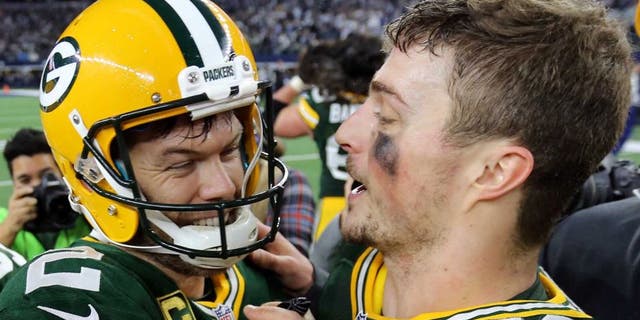 NEWYou can now listen to Fox News articles!
GREEN BAY, Wis. -- For once after a game, Green Bay Packers kicker Mason Crosby felt sore.
He got mobbed by giddy teammates after hitting the 51-yard field goal as time expired to beat the Dallas Cowboys.
At one point, Crosby had to beg hulking left tackle David Bakhtiari from trying to pick up the kicker for a victory parade.
After getting eliminated from the playoffs on the last play in each of the previous three seasons, the Packers experienced last-second elation in the 34-31 win over Dallas on Sunday.
Green Bay will face the Atlanta Falcons on the road in the NFC championship game on Sunday.
"Usually after a game, I don't feel beat up," a smiling Crosby said on Monday. "We play a kid's game, and those moments like that, just kind of bring that (joy) out of us."
Crosby's clutch kick was set up by Aaron Rodgers' throw , while rolling to his left, to toe-dragging tight end Jared Cook along the sideline for a 36-yard gain. Coach Mike McCarthy on Monday credited Rodgers with making all the right calls on that play.
"It's one of the greatest plays that you'll ever see in that ... we call it the final eight (plays) situation for us. But yes, the orchestration and the protection call, the route concept, great, great job with it," McCarthy said.
And with those two plays, the Packers were able to cross "last-second win on the road" off their checklist during what has been a remarkable turnaround for a team that was once 4-6.
Last season, the Arizona Cardinals beat the Packers in overtime 26-21 in the divisional round on Larry Fitzgerald's 5-yard touchdown catch.
The Packers fell 28-22 to the Seahawks in overtime on Jermaine Kearse's 35-yard touchdown reception in the NFC title game in Seattle two years ago after blowing a 16-0 lead.
They lost 23-20 in a wild-card game in the 2013 season to the San Francisco 49ers on Phil Dawson's 33-yard field goal as time expired in regulation.
"We've been in that situation before. We've got to keep fighting and keep playing until the last second," tight end Richard Rodgers, who caught a 34-yard touchdown pass against Dallas, said on Sunday.
The Packers have bounced back from the season-ending injury to running back Eddie Lacy in October. They have proven that they can win even without top receiver Jordy Nelson, who missed the Cowboys game with injured ribs. The defense has withstood injuries to the secondary.
"This team's personality is one of a unique energy. They don't swing too high, they don't swing too low," McCarthy said Monday. "When you go through playoff runs, a lot of teams go through injuries. You have to overcome it. We will."
McCarthy said it was too early to tell what Nelson might be able to do when practice resumes on Wednesday, though he called it a good sign that Nelson was able to go through a light, "regeneration" workout on Monday.
The typically lighter day probably helped the Packers after returning to Green Bay about a couple of hours late after the game on Sunday because of stormy weather in the Dallas area. Like fans who had attended the game, the Packers' departure from AT&T Stadium was delayed.
But it was a pretty fun flight back home.
"I wish I had a great story to tell you, but I tried to watch a little bit of the Steelers game (against) the Chiefs, but you know, the TV was kind of going in and out obviously because of the weather," McCarthy said.
The coaches "mainly worked on the way back. But the players -- it sounded like they were having a pretty good time in the back of the plane."
Note: Morgan Burnett (quad) would do "everything he can" to play against the Falcons, McCarthy said. He left the Cowboys game in the second quarter.