Copa América: Can Brazil, With the 2014 World Cup Looming, Focus Enough to Win?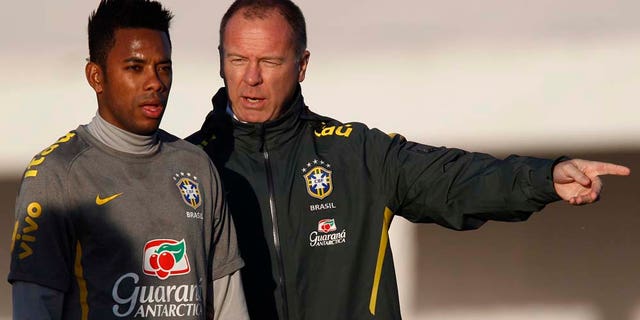 Even before Brazil comes close to kicking its first ball at Copa América, coach Mano Menezes already sounds like he has some diminished expectations.
"I know Brazil always need to win," he was quoted by World Soccer. "But priority No. 1 in Copa América is to give experience to the young players who are coming through."
That's potentially a volatile comment for a country that expects to win every competition it enters. Copa América is just behind the World Cup in the South American soccer's prestige orbit.
So, regardless what he says, the pressure on Menezes and his boys, starting with Friday's tournament kickoff to the July 24 final, will be immense.
Menezes is preparing the team – essentially a revamped side from the one eliminated by the Netherlands in the World Cup quarterfinals in South Africa last year – for the 2014 World Cup, which will be hosted by Brazil.
But even today's expectations will pale in comparison in three years, and that's why Menezes is willing to experiment and take some risks now when there is supposedly not as much on the line.
Imagine what the demands on the Brazilians will be like with the world championship played at home. We will see a new level and definition of pressure in a country that worships soccer.
Winning confederation and world championships are part of Brazil's culture. They have captured the World Cup five times and Copa América eight times, including four out of the last five times.
Unearthing talent has never been a problem in Brazil. Getting the right combinations and system in modern-day soccer is the No. 1 challenge.
Dunga, the 1994 World Cup champions' captain and Menezes' predecessor, preferred a more cautious and defensive, counterattacking approach that held back Brazil's many attacking options. Menezes likes to push up, a strategy that should make some of his critics happy.
The Brazilian team is comprised of proven talent that has performed at the highest levels and those who need an opportunity prove themselves and answer questions on how well they can perform – not only internationally but in pressure-cooker, knockout round matches against the likes of archrival and host Argentina, Uruguay and the such.
Julio César, who still is living down his goalkeeping gaffe in the World Cup quarterfinal loss to the Netherlands, should start. World Cup veteran Lucio, 33, and Thiago Silva, around whom the defense has been built, anchor the backline.
The most glaring absence is playmaker Kaka, who was asked to be left off the Copa roster so he could regain his form from knee surgery.
Veteran Elano, who is crafty on set pieces, leads a young midfield contingent. Paulo Henrique Ganso, who made his international debut against the United States last year, is expected to be the playmaker, despite battling all sort of injuries, the most recent of which a shoulder ailment. Defensive- minded Lucas Levia is considered the best all-around midfielder.
Two youngsters who are expected to be Brazil's future strikers – Neymar, 19, and Alexandre Pato, 21.
They have but a handful of international goals. But if things work out well, those figures could be much higher come 2014.
Pato, who performs for Italy Serie A champion A.C. Milan, has bounced back from a shoulder injury suffered in May. Neymar, an extraordinary talent who performs for Santos, Pelé's former club, can score goals by the bucket. But there are legitimate concerns about his temperament and his inclination to dive (which is not good for yellow card accumulation in a tournament like Copa).
Just in case, "old man" Robinho, 27, has been included to bring some experience to the front line.
Brazil is so deep it could field a B and and C team and still be competitive. The problem is that Menezes has but this one.
It is not easy to satisfy a country of 194 million wannabe national team coaches. Everyone has an opinion. When he directed the fortunes of Brazil toward the world championship at USA '94, Carlos Alberto Parreira talked about how his mother would criticize him publicly about his starting XI.
The Brazilians face Venezuela July 3, Paraguay on July 9, and Ecuador on July 13. The quarterfinals are set for July 17, followed by the semifinals three days later and the final on July 24.
The tournament winner will qualify for the FIFA Confederations Cup in 2014. Regardless how the Brazilians fare, they still will play in that competition because they are hosts.
But Copa is the here and now, and that's what the country cares about.
Besides questions Menezes must answer, here is one for the entire country: Can the Brazilian public accept anything but a championship triumph at Copa with the real prize in three years?
Patience is not a Brazilian fans' top virtue when it comes to their national team, when anything less than a championship is considered an utter failure, even if it is not the World Cup.
Michael Lewis, who has covered international soccer for three decades, is a frequent contributor to Fox News Latino. He can be reached at SoccerWriter516@aol.com.
Follow us on twitter.com/foxnewslatino
Like us at facebook.com/foxnewslatino