Copa America: A Final Four without Superpowers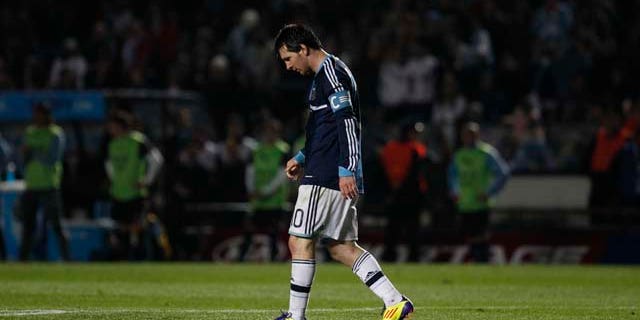 Say this for this year's Copa América: It has not been lacking for drama or surprises.
Who would have bet or even thought that the two perennial superpowers of South America, Brazil and Argentina, would struggle in the first round to reach the quarterfinals and then get eliminated in their quest for the semifinals?
Come on, no one should be raising their hands. I would not have guessed myself.
It is just mind boggling.
Just how mind boggling?
Entering this competition, Brazil or Argentina had been in Copa's final four in all but one of the previous 13 tournaments – a streak dating back to 1975. That's how mind boggling it was.
The most devastating result had to be Argentina, the host of the tournament. It was bad enough that the stadium, Estadio Monumental, that will showcase the final between either Uruguay, Perú, Paraguay or Venezuela on Sunday is far from tip-top condition, certainly not befitting continental championship. It was also was bad enough that the home team of Monumental, the legendary River Plate team, has been relegated to the Argentine Second Division.
And now this crisis. And from a country that has produced some of the best players in the world, including Juan Román Riquelme, Javier Mascherano, Carlos Tévez and the indomitable Lionel Messi, who has woefully underachieved while wearing the blue and white of his country.
Coach Serigio Batista makes former coach Diego Maradona, who entertained the media during his post-match press conferences and confounded his country's supporters with unusual or lack of proper tactics, look like a genius in reaching the quarterfinals of last year's World Cup in South Africa (and I was not one of Maradona's supporters).
Batista tried to defend himself at the post-game press conference, but he did a verbal own goal by using some illogic.
"I do not think it was a failure," he said. "We did everything possible to try to win the cup, but we couldn't. Failure is a very strong word. We worked to win the competition."
Working hard and winning are two entirely different concepts.
There is little doubt that Messi is one of the game's great players – when he plays for Barcelona. When he dons the Argentina jersey, some of his magic vanishes – be it from playing outside of the Barca system, surrounded by players with whom he is less familiar, or a lack of confidence when playing for his national side. He certainly won't be the first, or last, who has suffered such a fate.
As entertaining and great Messi has been and is, if he never reaches a World Cup final, let alone win one, his career will not be considered complete. He still has time, however.
He is only 24-years-old and the next World Cup will played in his backyard, so to speak, in Brazil while he still is in his prime. South American teams traditionally do better when they play in their hemisphere.
Whether Batista will be coach of the team remains to be seen. La Albiceleste underachieved – badly – under the 1986 World Cup winner. Media and fans are calling for his ouster, and rightfully so. You cannot be a soccer superpower and play like that at home. No excuses.
Whether his millions of detractors get their wish, who knows? Just remember that Julio Argentina Football Federation president Grondona, the man who would not fire Maradona during some of the coach's darkest days, has the final say, and word coming out of South America is that he will stay with his man for the time being.
That's too bad, because not reaching at least the Final Four should be a fireable offense.
And speaking of such crimes, Brazil coach Mano Menezes set the bar so low that he it sounded like he had one foot out the door before the tournament began, claiming he was experimenting and preparing a team for the long run.
Brazil wasted a precious opportunity to play in two more high pressured competitive games in Copa.
As hosts of the 2014 World Cup, the Brazilians don't have to go through the qualifying process, denying them of true competitive matches. They will have the 2013 FIFA Confederations Cup, but that won't be enough to stretch and challenge the players.
As the team obviously learned the hard way, the players can't necessarily turn it on when they choose, even with their glorious talent. The gap between the haves and the have-nots has narrowed through the years, thanks to advanced tactics, better training and the opportunity of the smaller countries to have their players perform in Europe. And the gap will even shrink more in years.
O Globo, the Brazilian daily, called the team's performance an act of "historical incompetence." The Brazilians were shown the door against Paraguay in a shootout in which they fired wide on three of their four penalty kicks.
"It's important to keep our calm after a loss and avoid thinking that it was all negative," Menezes told the media afterwards. "We improved after the start in the competition and we will continue working hard so we can reach the positive results in the future."
So should Menezes get a pass? No. A five-time world champion not reaching the semifinals of its continental competition should be given a pink slip. But like Batista, Menezes appears to be safe for now.
But if the Brazilians stumble in any matches in the future, do not be surprised if he is shown the door. The Brazilians don't like to just win – they think it's their soccer birthright to savor after match and victory. Any loss is dissected and mourned in this soccer-crazed nation.
After saying all of that, we must give credit to Uruguay and Paraguay, who toppled Argentina and Brazil, respectively. Yes, they needed shootouts to show those favorites the door, but they did the job.
Every quarterfinal had its heroes, villains and goats.
Uruguayan goalkeeper Fernando Muslera was magnificent in the 120 minutes of regulation and extra-time to secure a 1-1 draw before saving a Tévez penalty attempt en route to a 5-4 shootout win.
After a scoreless two hours, Paraguay ousted Brazil, which could not convert a penalty. The one spot kick the Brazilians put on net, by Thiago Silva, goalkeeper Justino Villar, saved. Villar was named man of the match.
After a scoreless 90 minutes, Perú took advantage of errors and solved Colombia twice in extra-time on goals by Carlos Lobatón and Juan Vargas en route to a 2-0 victory.
For Venezuela, the only Copa nation never to reach the World Cup, knocking out Chile, which played in South Africa last summer, was a real stunner. To many fans of the New York Red Bulls, it was just as surprising to watch or learn that defender Gabriel Cichero, who struggled during his short 2008 tenure with the Major League Soccer club (now, I am being nice about the way he played) connected for the game-winning goal.
But that's how soccer goes these days.
One day you're a goat, the next day you're a hero. And who knows what happens next?
Those are questions that have to be asked by the powers that be in Brazil and Argentina.
Michael Lewis, who has covered international soccer for three decades, is a frequent contributor to Fox News Latino. He can be reached at SoccerWriter516@aol.com.
Follow us on twitter.com/foxnewslatino
Like us at facebook.com/foxnewslatino