Cooper Kupp NFL Draft diary: Training with a special quarterback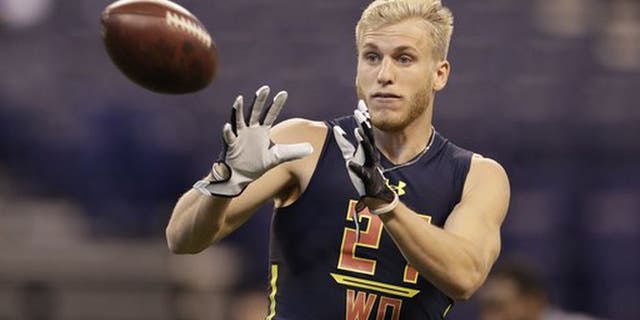 Cooper Kupp played wide receiver at Eastern Washington, where he set 15 FCS, 11 Big Sky and 26 school records during his career. The FCS all-time leader in receiving yards, receptions, touchdown catches and yards per game, Kupp was a consensus All-American in each of his four seasons and is projected to be an early-round pick in next weeks draft. This is the sixth draft diary entry for Kupp, who is documenting his NFL draft experience at FOXSports.com.
Were only a week away from the NFL Draft and as one of the biggest moments of my football career draws closer, its been both fun and comforting to spend a little time back home, tossing the pigskin with my favorite quarterback.
After staying in Cheney and working out at Eastern Washington for a week in March, my wife Anna and I made the three-hour drive west to my hometown of Yakima earlier this month. A homecoming doesnt mean the work stops however. For most of the past two weeks, Ive been relying on my dad, Craig, to throw to me every day.
Fortunately, my dad also happens to be a former NFL quarterback and though he just turned 50 and has been out of the league since before I was born, hes definitely still got it.
In fact, his arm is still so good that, at one point, I even joked that he could fill in if a team needs an emergency QB. But he insists that at his age, he dreads the thought of falling on the ground without being hit, so it seems like taking a sack is probably out of the question. (If any team needs a practice quarterback, though, I still say hes your guy.)
Our daily routine starts at the crack of dawn each morning, hopping the fence at Zaepfel Stadium, the only place in town with a turf field, for a 6 a.m. workout before kids start class at Eisenhower High School. Although it had been a while since my dad and I took to the gridiron together, our chemistry never went anywhere, and it didnt take long for us to get back into our familiar rhythm.
Hes also been a valuable source of advice, both on the field and off, but if anything, his most important message has been to not get caught up in the process and to just enjoy the ride. My grandpa, Jake, also spent time in the NFL he played eight years with the Saints as an offensive guard and is in the franchise Hall of Fame and has echoed that statement.
And while some might look at the prospect of becoming a third-generation NFL player as a stressful proposition, neither my dad nor my grandpa have ever pressured me to follow their path. So while my lineage is a huge source of pride, its never been my motivation. I play football and work as hard as I do because I love the game, and being able to add to our family history is just the icing on the cake.
As for their enjoy the ride advice, Ive been trying to do that as much as I can, too, despite my hectic schedule, and I had a great time the other day when I played a rare round of golf with my family. I like to think Im a pretty respectable golfer, and for one of the first times I can recall, I beat both my dad and my grandpa on the course, a bonus I definitely wasnt expecting.
Regardless of how I played, though, it was a nice break from the routine. And considering the busy road ahead, it couldnt have come at a better time.
Because I know my life is about to change dramatically, and after next week I dont know when Ill have this much time to spend with my family again,with minicamps and OTAs, training camp and my rookie year just around the corner. So while Im looking forward to the exciting next chapter of my career, and Im eager to get started, Im also savoring the comforts of home while I still can.
Chapter 1: A whirlwind week at the Senior Bowl
Chapter 2: Training with the NFLs best
Chapter 3: Primed for the Combine
Chapter 4: Looking back on my week in Indy
Chapter 5: Making the most of Pro Day
You can follow Cooper on Twitter at @CooperKupp.