Conor McGregor expects his next fight to be against Floyd Mayweather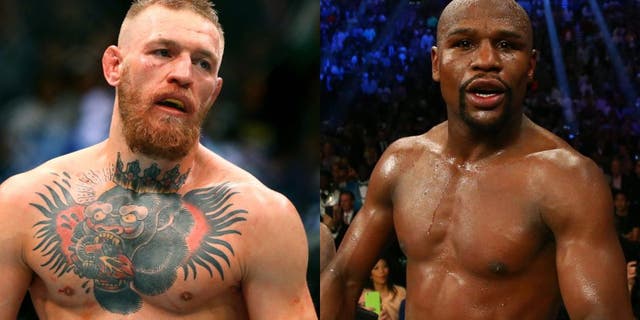 Conor McGregor isn't thinking about defending his lightweight title or even moving up to fight for a third UFC title at welterweight.
The only thing on McGregor's mind is a super fight with retired boxing champion Floyd "Money" Mayweather.
"I have my eyes on one thing and that's Floyd Mayweather," McGregor said during a pay-per-view interview from England on Saturday. "That's the thing I have my eyes on."
McGregor made it clear that he's serious about the proposed mega-fight with Mayweather that could produce some of the biggest financial numbers in the history of combat sports. McGregor and Mayweather have combined for some of the gaudiest live gates and pay-per-view sales in history and a fight pitting them against each other could produce astronomical figures for both competitors.
Just recently, UFC president Dana White offered McGregor and Mayweather $25 million each plus a cut of the pay-per-view profits to make the fight between them a reality. While Mayweather quickly scoffed at that figure, McGregor believes it's only a matter of time before the two sides sit down to hammer out a deal.
"Me and Floyd have got to get together and talk and figure it out the same way him and Manny (Pacquiao) figured it out," McGregor said. "Once we come to a number, once we come to a set number that I'm happy with, that he's happy with and then we go to the customers. Then we go to the promoters, the buyers and then we get it done. That's next.
"I'll go to Vegas, I'll handle the commission or we'll figure that situation out and then we'll come to a dotted line and then we'll go, but this is happening."
McGregor stated during the hour-long interview that he was planning a trip to Las Vegas in the near future to settle his fine with the Nevada State Athletic Commission after he was fined $150,000 for his part in the UFC 202 press conference where he was launching bottles and cans at his opponent Nate Diaz.
Once that's settled, McGregor expects for his boxing license in Nevada to be approved and then he can move forward with negotiations to face Mayweather
"I'm going to fly out there, fix it, I'm going to get my Las Vegas boxing (license) and then we'll see where the (expletive) Floyd's at!" McGregor shouted.
"That fight is more than being explored. That fight has been in the works for a while now. Look, there's a lot of steps to get through to get the fight done but it's the fight to make. It's the fight that people want. It's the fight I want. It's the fight I know I'm confident going in there."
McGregor stated that there are several components that have to come together for Mayweather fight to become official. McGregor has recently launched his own company -- McGregor Promotions -- and of course, Mayweather has Mayweather Promotions. That leaves the UFC as the third entity in these negotiations because McGregor is under exclusive contract with them, but the Irishman says he could probably supersede their authority under the Muhammad Ali Boxing Act.
That being said, McGregor would rather work with the UFC than work against them.
"I believe so with the Ali Act, I believe I can, especially now that there's offers on the table. But I think it's smoother if we're all involved," McGregor said. "I think we're all about good business. I've done great business with the UFC, with Dana (White), with everyone. I think it's smoother if everyone just gets together, we get it involved, but again everyone's got to know their place. We'll cross that bridge when we come to it."
There's no doubt that a fight with Mayweather would ultimately give McGregor the biggest payday of his career, but as much as he would love the financial windfall from the proposed bout, the current lightweight champion also believes wholeheartedly that he can win.
Odds makers have already speculated that McGregor would be upwards of a 12 to 1 underdog against Mayweather, who retired with a perfect 49-0 record in boxing when he left the sport in 2015. Meanwhile, McGregor has no professional boxing on his resume outside of the striking training he's done for mixed martial arts.
Still, McGregor is supremely confident that he will not only cash in with the fight against Mayweather but he will walk out of the ring victorious as well.
"I've got the reach, I've got the youth, I've got the confidence, I've got the unpredictable style. You can't prepare for a style like me. A guy said to me 'why conquer one world when you can conquer two' so I'm going to go conquer two worlds. At the end of the day, it's another day for me," McGregor said.
"My fist is bigger than his head, seriously. I know every single shot he's been hit with. I know every single shot he's been hurt with. I know southpaws have caused him a hell of a lot of trouble. I know everything. Trust me, I don't care what rule set it's under. Most people don't know (expletive) about fighting. I'm going to teach him about true fighting and that's it. I land one anywhere on the dome, he's going to know about it."
As much as the UFC might hope to book McGregor against the winner of the UFC 209 co-main event between Khabib Nurmagomedov and Tony Ferguson or even offer him a shot at a third title with a fight opposite welterweight champion Tyron Woodley, none of those are as enticing as a showdown with Mayweather.
"100-percent. I believe the next time that I step into a combat arena will be through the ropes wearing eight-ounce gloves," McGregor said. "I believe so. It's very hard to go back now because I'm hunting now. So we'll see.
"I believe it will happen by the end of this year or early next year. I believe either side of that it will happen."
Before ending his interview, McGregor sent one final message to Mayweather, who was undoubtedly bombarded with quotes via social media throughout the day as the outspoken Irishman mentioned his name dozens of times.
Now McGregor is making it clear that Mayweather is the only fight he wants and it's just a matter of time before they finally meet in the squared circle.
"(Expletive) Floyd Mayweather," McGregor shouted. "I'm a see you soon! I'm a see you soon!"