Club Tijuana player charged with attempting to smuggle methamphetamine into U.S.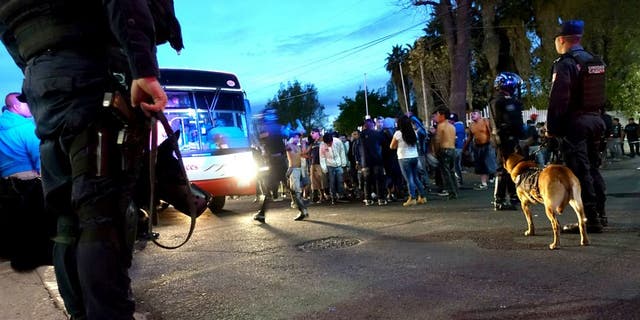 NEWYou can now listen to Fox News articles!
A Club Tijuana youth player has been arrested, detained and charged forattempting to import a controlled substance into the United States.
21-year-old Daniel Gomez, a U.S. citizen and defender for the Xolos youth side, wasoriginally reported missing by family members. However, the San Diego Union-Tribune reported this week that he had been arrested at the border onaccusations of trying to smuggle methamphetamine into the United States.
Gomez was arrested after he tried to enter the U.S. from Mexico at the Otay Mesa border crossing in a Chrysler Sebring vehicle. Gomez told a Customs and Border Protection officer that he was traveling to the U.S. to work, but upon a search of his car, an officer noticed that the spare tire in its trunk had hard spots and wasnt the usual weight, court records say.
The car was then put through a more thorough inspection with an X-ray machine, and a second officer saw anomalies in the spare tire. An officer cut the spare open and found 23 packages made of plastic wrap, carbon paper, cardboard and packing tape filled with a substance that later tested positive for meth, according to court records.
Gomez was then interviewed by special agents from the Department of Homeland Security, and he told them that he owned the Chrysler but had traded it away three months ago to an unnamed person, and then traded back for the car approximatelya month ago, court records say.
Gomez told agents that he left his home in Tijuana to have breakfast at a Dennys restaurant by himself in National City before returning to Mexico for soccer practice later that morning. According to court records, he claimed he did not know anything about the drugs in the vehicle."
Border Patrol then re-inspected the car, and found 11 more packages in the panels, taking the total to 34 packages weighing 47.75 pounds, according to records.
Gomezwas then arrested and charged with importing a controlled substance. Heremains in custody after a judge declared him to be a flight risk followinga hearing on Tuesday.
There has been no statement from Club Tijuana as of yet.
MORE FROM FOX SOCCER: