Clips' Rivers on Warriors: 'I was really surprised at how sensitive they are'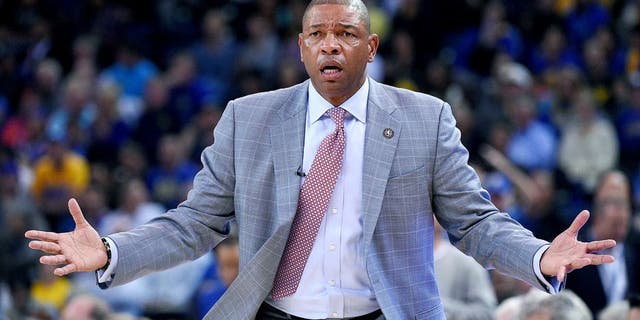 NEWYou can now listen to Fox News articles!
After being called "bitter" by Golden State Warriors guard Klay Thompson last week, Los Angeles Clippers coach Doc Rivers finally responded earlier this week.
"I was really disappointed in them because that's not how I said it," Rivers told the Long Beach Press-Telegram. "I was really surprised at how sensitive they are, but I'm giving Klay the benefit of the doubt. I'm sure it was worded wrong in the question that was asked to him. I basically say it and I say it all the time. During the conversation, I said of my (Boston Celtics) team in 2008, you've gotta have some luck, things have to go your way. You need all that."
Even in trying to dismiss the perceived beef, Rivers can't help but sneak in a subtle shot, basically calling Thompson "sensitive."
To be clear, though, Rivers backed up his claim from earlier this week that he still respects the Warriors, despite the obvious dislike on both sides.
"But I respect Golden State a hundred percent," Rivers said. "But I was surprised at how quickly they jumped on it. To each his own."
There is growing criticism across the NBA that the Warriors' championship run largely benefited from a few lucky breaks. Every team they played had a significant injury to at least one, if not two, starters, while the Warriors were one of the healthiest champions in NBA history. In addition, the Warriors never faced the Clippers or San Antonio Spurs, the two Western Conference teams who theoretically provided the biggest challenge for them.
Rivers agreed with that assertion, telling Zach Lowe of Grantland.com last week that he felt the Warriors were fortunate during their playoff run.
"You need luck in the West," Rivers said. "Look at Golden State. They didn't have to play us or the Spurs."
Since Rivers' comments last week, the Warriors have lashed out back at the Clippers and anyone else who doubts them.
Thompson called out the Clippers for blowing a 3-1 lead to the Houston Rockets; Andrew Bogut told them to kiss his championship ring on his middle finger; Stephen Curry issued a fake apology; and Draymond Green compared them to bitter women.
The beef is back in the Warriors' court. Let's see what they say next.