Clint Bowyer on finishing second: 'We shouldn't hang our head about it'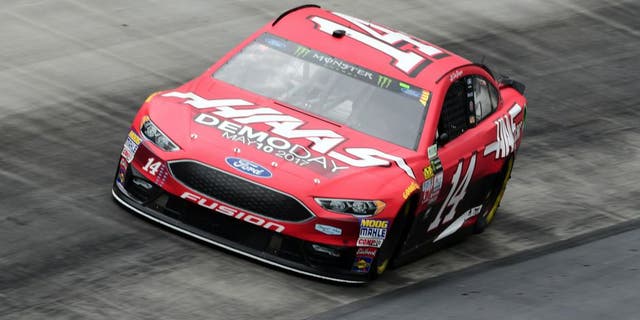 NEWYou can now listen to Fox News articles!
BRISTOL, Tenn. -- After a season in which he managed no top-five finishes for the first time in his NASCAR Cup Series career, Clint Bowyer now has a pair in the last four races.
He also has his first second-place finish since Richmond in the spring of 2013 after finishing runner-up to Jimmie Johnson in Mondays rain-delayed Food City 500 at Bristol Motor Speedway.
Sure, Bowyer would rather have won on Monday. But he admitted that hes continuing to have lots of fun in his first season driving the No. 14 Stewart-Haas Racing car vacated at the end of last season by Tony Stewart.
Yeah, it's a lot of fun, said Bowyer, who also finished third less than a month ago at Auto Club Speedway in California. You start getting that close to wins -- know what I mean? -- and you can't let too many of those go by the wayside.You've got to use those opportunities and capitalize on those opportunities, but its definitely a confidence and momentum builder for sure.
Bowyer surged to second with 12 laps to go Monday, and immediately started attempting to do whatever he could to close the gap to Johnson in first.
I think I could hear him cussing and wishing my right-front tire would blow out, Johnson joked.
That may actually have been true. But soon enough, Bowyer realized the gap to first was too great and the laps remaining in the race on the .526-mile short track were two few.
It was like if I could gain on him one lap, then he'd gain on me the next, and then it just kind of fell by the wayside, Bowyer said. I kind of realized that, you know, that it was a secondplace day.
Plus, Bowyer knew who he was chasing.
Its Jimmie Johnson. It is frustrating, Bowyer said. You could see him out there, but dammit, you'd think he'd get tired of winning all these races.
The win was the 82nd of Johnsons career. Bowyer has eight and none since 2012 when he was still driving for now-defunct Michael Waltrip Racing.
So he said he feels like hes able to keep Mondays second-place run in perspective, especially after waiting on his current ride for an entire season in which he struggled mightily in lesser equipment while driving for HScott Motorsports.
You struggle and struggle and struggle for a year and a half here, and hell, next thing you know you're being greedy about second; you know what I mean? Bowyer said. That's just the way racers are wired and the way it's always been. Im having a ton of fun and working hard and seeing the results is gratifying for this race team.
He added that when he first got in second and began trying to chase Johnson, he almost tried to do too much.
I was starting to do some pretty desperate things with brakes and my line and stuff like that, and then you just realize your mindset quickly changes -- and you're like, all right, let's put it in perspective here, we've come a long ways, it was a long day, and second place is probably a good run for us, and we should be happy with that, Bowyer said. We shouldn't hang our head about it.
Lesley Ann Miller | Lesley Ann Miller/LAT Images www.latphoto.co.uk