Cleveland Indians at Tampa Bay Rays game preview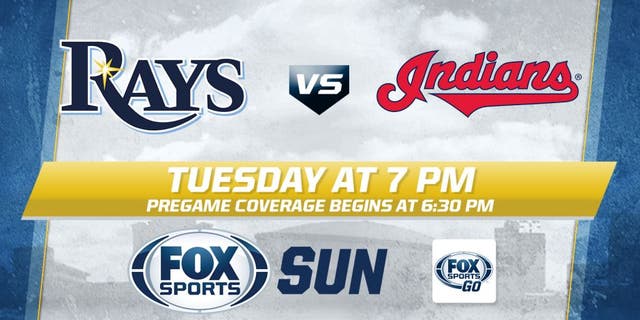 TV: FOX Sports Sun
Time: Pregame coverage begins at 6:30 p.m.
After having their first two series cut short by inclement weather, the Cleveland Indians should feel good about heading indoors for a three-game set at Tropicana Field.
With their top three pitchers going in the series, the Indians will try to keep Tampa Bay's bats quiet starting on Tuesday night when they chase a sixth straight win over the Rays.
Cleveland played the fewest games in the AL during the opening week after two were washed away in its home series with Boston and another in Sunday's finale at the Chicago White Sox. The teams played in snow Friday and in 30-degree temperatures Saturday.
The Indians (2-2) have only been able to take batting and infield practice once, and Terry Francona is looking forward to giving his club a workout once it arrives in Tampa.
"We'll probably have early work on Tuesday because we need it," the veteran manager said. "I think it's the groundballs and getting guys out there to turn double plays and stuff - we haven't done any of that. And early in the year is when you need it."
After a series-opening 6-1 loss on Friday, the Rays had the middle game of their three-game series at Baltimore postponed before dropping Sunday's finale 5-3. Corey Dickerson went 2 for 3 with his third home run, but the rest of the team only managed six hits.
The Rays (2-4), who are in the midst of their worst start since losing their first six in 2011, have scored three runs or fewer in five of their first six games while striking out 51 times.
Logan Morrison and Brad Miller have gotten off to slow starts after coming over from Seattle in the offseason. Miller has gone 1 for 17 and Miller is 1 for 18 with eight strikeouts.
"It's really early in the season," said Dickerson, whose long ball extended the team's record to 20 straight games with at least one, MLB's longest streak since Seattle's 23 in 2013.
Now Tampa Bay will have to face Corey Kluber, Carlos Carrasco and Danny Salazar over the next three days. Kluber hopes to bounce back after allowing four runs and nine hits over 5 1-3 innings in last Tuesday's 6-2 loss to Boston.
The right-hander has gone 2-1 with a 2.56 ERA in five career starts against the Rays.
Evan Longoria, who hit his first home run on Friday, is 5 for 14 with a homer off Kluber. However, he's just 4 for 31 (.129) over his last nine games versus Cleveland.
The Indians have outscored the Rays 52-23 in winning seven of the past eight road meetings. Kluber struck out 14 on his last visit to Tropicana, a 5-4, 10-inning victory July 2.
Matt Moore allowed four runs over 4 2-3 innings in that contest after he had gone 2-0 with a 1.50 ERA over his previous three versus Cleveland. The left-hander seeks his first victory after giving up three runs over five in Wednesday's 5-3 home win over Toronto.
Jose Ramirez is off to a 5 for 13 start for the Indians, while Mike Napoli has homered in two of his last three. Jason Kipnis is 8 for 19 with a homer over his past four at Tropicana.