Cincinnati not intimidated by UCF's 7-foot-6 interior presence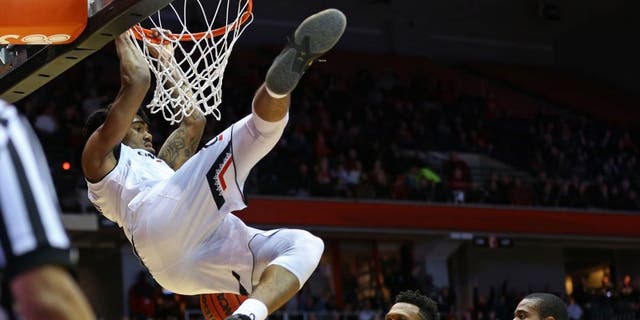 CINCINNATI (AP) -- To overcome Central Florida's 7-foot-6 Tacko Fall, the Cincinnati Bearcats knew they would have to attack from outside.
No problem, said Kyle Washington.
Washington scored 14 points and No. 11 Cincinnati led for the entire game while extending its winning streak to 15 games with a 60-50 victory Wednesday night.
The senior forward also finished with 11 rebounds for his seventh double-double of the season as Cincinnati (22-2, 11-0 American Athletic Conference) won its 23rd consecutive home game.
Facing Fall, the Bearcats attempted 29 3-pointers, their second-highest total of the season and five shy of their season-high. They connected on nine.
"That was the game plan -- spread the ball out and keep him moving," said Washington, who at 6-9 gave up 9 inches to Fall. "It's crazy. You saw the game. He looks like he's playing on a Nerf hoop out there. He's a huge human being. We weren't intimidated."
"You can't take the ball in at (Fall)," Cincinnati coach Mick Cronin said. "They were giving us open looks."
Fall also finished with a double-double, scoring 14 points on five dunks and two tip-ins and grabbing 11 rebounds to lead Central Florida (15-9, 6-6), which has lost five of its last six games. B.J. Taylor also scored 14 points for the Knights.
Fall was charged with six turnovers, one more than committed by the Bearcats as a team, as the Cincinnati defense swarmed him, slapping at the ball every time he caught a pass. The Bearcats finished with 12 steals and advantages of 11-2 in fastbreak points and 14-6 in points off turnovers.
"If you don't swipe at him, he'll just dunk it," Cronin said. "The difference in the game was points off turnovers and fast break points. I was really happy with our effort. We held them to 50 points. You can't ask for much more than that."
The Knights closed a 15-point first-half deficit to five on a 3-pointer by Nick Banyard with 10:37 left in the game, but the Bearcats put together an 11-3 run to regain control.
Washington connected on two 3-pointers from the top of the key, sparking Cincinnati to a 9-0 lead. The Bearcats led 30-15 on Evans' dunk off an alley-oop pass from Troy Caupain with 5:34 left in the first half. Fall scored six of his eight first-half points during the Knights' 13-4 run that cut the Bearcats' lead to 34-28 at halftime.
"I think we started off slow (and) gave them a lot of momentum," Central Florida coach Johnny Dawkins said. "I am really proud of our guys (and) the way we kept competing and fighting to get ourselves a chance, but they didn't answer every time. You know, a lot of times, it was just the offensive rebound, putbacks, making plays, and you give (Cincinnati) credit. They have a rich tradition and they did what they needed to do to pull off the win."
BIG PICTURE
Central Florida: The Knights struggled from 3-point range, finishing just 3 of 15.
Cincinnati: Washington, a transfer from North Carolina State who sat out last season, was coming off a career-high 27-point effort in Cincinnati's 82-68 win over UConn on Saturday.
COMEBACK NIGHT
Cincinnati sophomore Jacob Evans finished with 11 points in 35 minutes after scoring zero in 13 1/2 minutes against UConn on Saturday. "I was happy to refocus and get back to playing hard," Evans said.
UNSELFISH
Caupain finished with just five points, giving him 12 in last two games after he scored 15 at Tulsa on Feb. 1, but he also tied Evans for the team lead with six assists.
UP NEXT
UCF opens a brief two-game home stand on Friday against UConn.
The Bearcats travel to No. 25 Southern Methodist on Sunday for a rematch with the Mustangs. Cincinnati squeezed out a 66-64 home win on Jan. 12.