Christian Hackenberg is still hitting reporters with passes at Jets practice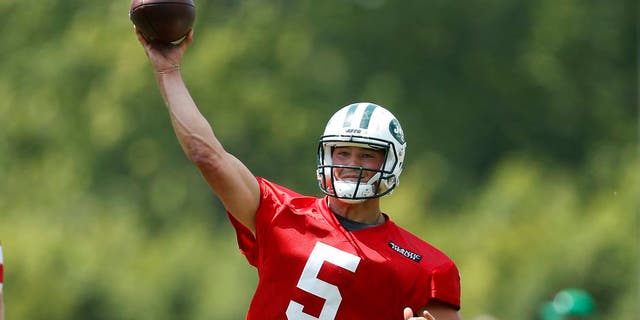 NEWYou can now listen to Fox News articles!
The New York Jets are preparing to go into the season with Josh McCown, Christian Hackenberg and Bryce Petty as their top three quarterbacks on the depth chart. Ones a 15-year veteran with a career record of 18-42, while the other two are inexperienced second- and third-year players with exactly four starts combined.
Hackenberg is seemingly the favorite to win the job based on potential and the overall youth movement the Jets underwent this offseason, but he hasnt looked very sharp in practice. After he reportedly overthrew receivers so badly that two passes hit reporters last week, hes continued to struggle with accuracy.
On Tuesday, Hackenberg hit another reporter with a pass, albeit on one hop.
The receiver, tryout player Dexter McCluster, may have run the wrong route, but Hackenberg seemed to airmail the throw over his head.
Take this with a grain of salt because one pass doesnt tell the whole story, especially with others saying he actually had a really solid practice.
Theres still a long way to go before the season begins, so Hackenberg has time to hone his skills. But its never a good sign when youre hitting media members with passes.