Chip Kelly: Offensive success started with the blocking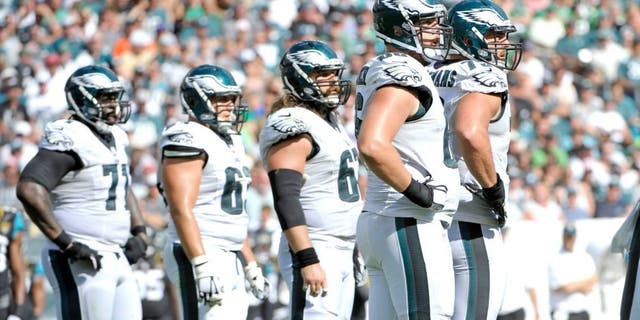 NEWYou can now listen to Fox News articles!
The Philadelphia Eagles offense got loose for 519 total yards, 34 first downs and scored 39 points in the Week 5 win over the New Orleans Saints. When asked about how the offense was finally able to get going, Eagles head coach Chip Kelly had an answer.
We just blocked better in the run game," Kelly said Monday to reporters, per Zach Berman of the Inquirer. "And obviously if we can get our run game going, then our pass game with our quick game and our play-action passes off of that, I think we kept Sam [Bradford] clean, gave him an opportunity to throw the football. But it starts with us being able to run the football, and we did a good job with that."
For the first time all season, quarterback Sam Bradford was not sacked once. In the running game, the Eagles totaled 186 yards rushing on just 34 carries for a yards per carry average much higher than what they had compiled through the first four regular season games.
Starting offensive tackles Lane Johnson and Jason Peters played through separate injuries in Week 5. Johnson is dealing with a sprained knee and ankle, and Peters has a hamstring injury that has limited him in practice. Both players gutted it out for all 87 offensive snaps, and according to Pro Football Focus, they allowed just two total quarterback hurries all game.
"I thought both those guys played really well, especially considering what we thought they were going to be during the game," Kelly said of Johnson and Peters.
The Eagles will face a different challenge in Week 6 when the New York Giants come to town. The Giants have done an excellent job stopping the run in all but one game this season.