Chiefs' Travis Kelce's belated holiday gift? Getting Raiders revenge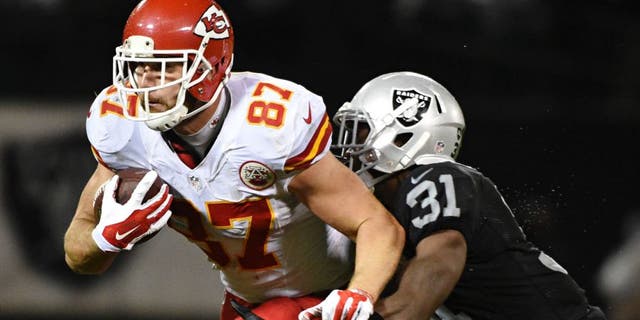 Travis Kelce and his Kansas City Chiefs teammates trekked to O.Co Coliseum as a confidient , playoff-worthy bunch last November.
They left as a shattered squad when the winless Raiders won. The tight end hates thinking about the three-game tailspin that followed; it kept his team at home during the playoffs.
Kelce, via Raiders.com: Knowing that they kind of upset us and ruined the end of the year last season for us, or end of the run that we had going into the end of the season last time... You know that as a player going into it, you know the hype that comes along with the Chiefs and Raiders."
Kelce and Co. are well aware this Raiders team can put up a fight. They battled well into the fourth quarter in their earlier meeting until turnovers decided the game for Kansas City.
The Chiefs can't lean on those kind of mistakes in Week 17. Oakland is fighting for a non-losing record -- it's first since 2011 -- and a shot to keep K.C. out of Arrowhead this postseason.
Said Kelce: "Besides their record, they have a lot of great players. It's Charles (Woodson)'s last game, so you know they're going to bring something else to the table for him."