Check out Odell Beckham Jr.'s awesome 'Toy Story' Pro Bowl cleats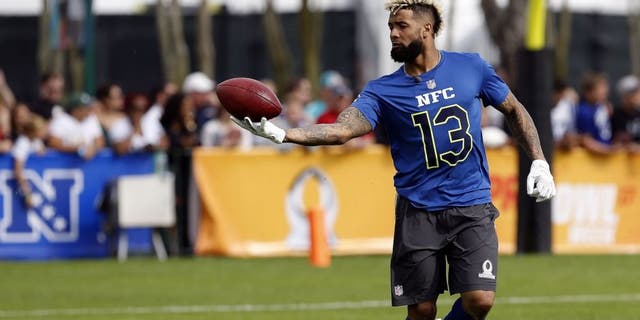 NEWYou can now listen to Fox News articles!
New York Giants receiver Odell Beckham Jr. never goes into a game short on excitement and flash, and this week at the Pro Bowl is no different.
Being a custom-cleat connoisseur, Beckham brought arguably his best of the year to Orlando for the NFL's all-star game. And it's location-appropriate with the Pro Bowl being played in Orlando, the home of Disney World.
Yes, those are "Toy Story"-inspired cleats, which are absolutely fantastic. They even say Andy's name on the bottom just as Woody's boot does.
These Supreme-Louis Vuitton collaboration kicks are also Beckham's, though it's unclear which ones he'll wear during the game.
Maybe he'll switch them up at halftime to give them both a little bit of air time tonight. The Pro Bowl gets underway at 8 p.m. ET on ESPN.