Chase drivers facing elimination enter the unknown in AAA 400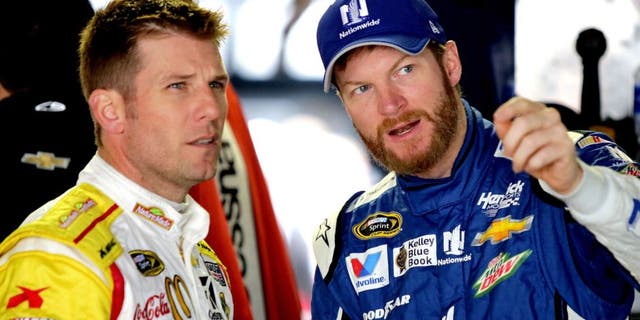 NEWYou can now listen to Fox News articles!
Sunday's AAA 400 at Dover International Speedway is not just another race.
It is the final event in the Challenger Round in the Chase for the Sprint Cup, and the 2015 championship hopes of four drivers will end when the checkered flag falls on Sunday.
However, thanks to wet weather throughout the weekend at Dover, teams are heading into Sunday's race with only about 40 minutes of on-track practice behind them.
Heavy rains canceled all activity on Friday, including practice and qualifying, setting the starting grid by points. After lengthy track-drying efforts, the teams hit the track for two practice sessions on Saturday, but neither was very beneficial to preparing for Sunday's race.
The first session was on a completely green racetrack, while the second -- which ended early due to rain -- came with the K&N East bias ply rubber on the track.
So, teams head into Sunday's all-important race with little on-track prep and a lot of unknowns.
"The first practice was really tough because the track had no rubber whatsoever. Everybody knows that's not racing conditions here at Dover," Kyle Busch's crew chief, Adam Stevens, told FOXSports.com after final practice. "The second practice was after the K&N East race, so fortunately it did have some rubber, but it was all bias ply rubber, so that's not racing conditions either. I don't know what we learned until the race gets going. I think we'll have to lean more on the race notes from earlier in the year than from practice (Saturday)."
Despite the brevity and unfavorable conditions of both sessions, Stevens is glad they made it on the track before Sunday's race to ensure they had no major issues. Sitting 13th on the Chase grid, Busch is one point behind Dale Earnhardt Jr. for the transfer spot. Looking for a solid day to advance, Stevens indicated their focus is on beating the Chasers around them on Sunday.
"If you look at the points, there's two or three of us that have essentially the same point total," he said. "Basically, we have to outrun those three guys. If we can do that, I don't see how we can't make it. So that's our focus for tomorrow."
For fellow Chase competitor Jamie McMurray, getting on the track was more reassuring than anything. While little was learned, the driver of the No. 1 Chip Ganassi Racing with Felix Sabates Chevrolet will head into Sunday's race knowing his team at least shook the car down.
"I don't think I've ever run a race where you didn't get to practice at all, so there's some comfort factor of just getting out on the track," McMurray told FOXSports.com. "You just make sure there's nothing crazy wrong with your car. I'm not sure we learned a lot with the track being green the first time and then having that K&N rubber on the second time. We got to run, but I don't know that we learned a lot."
Saying he wished he had more practice time, Team Penske's Brad Keselowski enters Sunday's race with a 16-point buffer over Kyle Busch in 13th and has a simple plan in mind.
"If you can win, win," he said after final practice. "If you can't, don't screw it up."
While the Chase drivers are dominating the conversation this weekend, one non-Chase driver that hopes to spoil that party is Hendrick Motorsports' Kasey Kahne. Unable to make a late-season charge to be a part of the 16-driver Chase field, Kahne has shown speed the last two weekends, led Saturday's opening practice and was third in final practice.
"I feel like our car has nice speed, which is exciting for us," Kahne old FOXSports.com. "I've never won at Dover, but we've been close on a couple of occasions. Last week, we were running 11th or 12th and every single car in front of me had a yellow (Chase) spoiler. They're the top 16 for a reason, and they're going to be in front of you the majority of the time these last 10 races, because they've raced themselves into that position for the final 10. But, yeah, I'd like to be the one car in the middle of it all."
With so much on the line Sunday at Dover, teams across the board face 400 miles with little track time, a ton of unknowns and a lot on the line. Either way, teams are going to line up, take the green flag and let it all play out on the track. To throw another wrench in the mix, weather will once again be a threat throughout the day on Sunday.
At the end of it all, the championship battle will continue on to Charlotte for 12 drivers, while the title hopes of four others will come to an abrupt end.