Cathal Pendred: I wouldn't be surprised if CM Punk never fights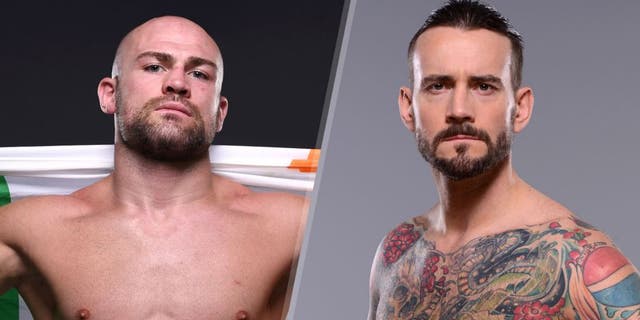 Cathal Pendred is preparing for an upcoming bout in his home country of Ireland against undefeated prospect Tom Breese, but thanks to a Twitter exchange with CM Punk some months ago it's impossible for him to escape the topic of the former WWE superstar turned UFC hopeful.
"I can't do an interview now without getting asked about 'Chick Magnet'," Pendred said with a laugh when asked about Punk by FOX Sports.
'Chick Magnet' refers to Punk's (real name Phil Brooks) in ring persona that was created when he was first starting out as a wrestler and Pendred now only refers to him by that particular moniker.
Lately while Pendred has been preparing for his sixth fight in the UFC, he's noticed the hype around Punk's first have died down dramatically from when he first signed with the promotion in late 2014.
Punk has been out of training for several weeks now thanks to a shoulder injury that forced him to miss significant time in the gym and it has Pendred curious if this is just further evidence that the nearly 37-year old MMA novice is starting to have second thoughts.
"I said it recently, just seeing his more recent interviews around the UFC and stuff, I feel like he's not in it as much anymore. I don't feel like his head is in it much anymore. Obviously, as he got deeper into the training and he got further down the line, he saw how much is involved in this and I think he realized he bit off more than he can chew," Pendred said.
"You can even see it now, when he first announced he was doing this he was at nearly every UFC in Vegas as a guest fighter doing the Q&A's and now he's nowhere to be seen. I do think he's kind of had a change of heart but the sad thing for him, the unfortunate thing for him is he said publicly he was going to do this. Unless he comes out and just buries his pride and says 'hey guys, I bit off more than I could chew, this is too much for me, I jumped in at the deep end and I can't swim'. We'll have to see. I wouldn't be surprised if he never fights."
Pendred believes if Punk does debut in 2016, he will be forced to face an established veteran for the UFC to get a return on their investment so it doesn't appear like the former pro wrestler is getting preferential treatment.
The UFC has a reputation to uphold and even though Punk fighting in the UFC for his first MMA bout might seem to contradict that, Pendred says ultimately facing someone with a name will help legitimize his debut.
"If you think about it, when Brock Lesnar came in -- and obviously he's a different kettle of fish, he's a collegiate wrestler -- but at least he had the decency to go do one pro fight before he came to the UFC. But he was given a former champ when he came in. He has to fight someone in the UFC. I don't think the UFC are going to sign someone just to fight 'Chick Magnet'. I think they're going to have to give him someone that's already in the UFC because otherwise they're diluting their product," Pendred said.
"They've spent so much time and money into making the UFC this great product that it is, like they say it's the NFL or the NBA of MMA, and that's what they've made it so they're not going to dilute the product and be bringing in Green Power Rangers or anything like that to fight 'Chick Magnet'. They're going to have to give him somebody that's in the UFC."
With a 0-0 record and no actual fight experience, it's going to be tough to justify matching Punk up with anybody currently occupying a spot on the UFC roster, but there are plenty of fighter who are game.
Pendred knows the chances he'll get the call are slim to none, but if it ever happened he'd happy accept the payday and enjoy the spectacle that goes along with facing someone like Punk in the Octagon.
"To be honest with you, I wouldn't turn it down," Pendred said. "I think the only spectacle in the whole thing will be the lead up to the fight. I'd probably be the only one that could match him for wit anyway. I'll gladly take that. Even if the fight is announced, it will be a long stretch whether he shows up but if they want to do a big world tour like they did with Jose Aldo and Conor McGregor, I'll jump in. Me versus 'Chick Magnet' and we'll fly the world and throw s--t at each other. I don't mind.
"It's unlikely that it will be me, but it's got to be somebody if he's going to end up fighting. It will be interesting to see."
As much as Pendred likes to have a laugh whenever Punk's name gets brought up, he's much more concerned with the 8-0 prospect he's fighting this weekend in Ireland.
Considering Pendred gets to represent his home country for the second time in his UFC career, he's already amped up to get back in the Octagon. Add to that, Pendred gets to face a fighter from England and that's even better.
"He's an Englishman and there's nothing the Irish love to see more in sports than the Irish getting one over on the English," Pendred said. "To top that off, he's an undefeated up and comer, add shine to the victory of me handing him his first loss. I think it's the best case scenario for me.
"It's a good fight. I knew of Tom and there was talk of me fighting him at one stage back when I was in Cage Warriors and it was just before I went to "The Ultimate Fighter". I knew of him. He's a decent fighter but I think it's a big, big step up for him. Too much at this stage."