Carolina wins 31-24, despite second-half collapse against Seattle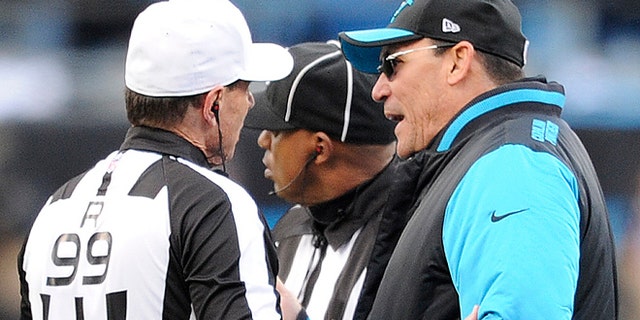 CHARLOTTE, N.C. (AP) – Cam Newton said it felt like the Carolina Panthers players, coaches and fans were all getting a little tight in the second half of their NFC divisional playoff win Sunday against the Seattle Seahawks.
And for good reason.
Carolina jumped out to a 31-point halftime lead, then had to hold off a furious Seahawks rally to win 31-24 to advance to next Sunday's NFC championship game against the Arizona Cardinals.
"We have been known to take our foot off the throttle and we have to find that killer instinct," Newton said. "Yeah, we won the football game, but there are some things we have to go back and fix and do better with."
The Panthers surrendered a 28-point lead to the New York Giants, a 23-point lead to Green Bay and a 17-point lead to Indianapolis earlier this season, but hung on to win all of those games.
Coach Ron Rivera said he wishes the Panthers could have skipped right to the second half on Sunday and not even went into the locker room for a break.
Of course it doesn't work that way.
The Seahawks adjusted some things at the half, including adding protection to Russell Wilson that helped them mount a comeback behind three Wilson touchdown passes.
"When you get a big lead like that, one of the things is you have to learn to not relax," Rivera said. "You have to learn to continue to attack. It is one of those things that we most certainly as coaches have to make sure we are putting them in the right positon to do those things."
Offensively, the Panthers were outgained 280-75 in the second half and outscored 24-0.
Panthers tight end Greg Olsen said he knows that is a fine line for coaches to walk when they have such a big lead and are working on the clock.
"Those games are tough," tight end Greg Olsen said. "You are up 31-0 and you don't want to give them life or give them a spark. You want to keep your aggression but it's hard. You don't want to do anything silly either. You don't want to take a chance and give up a big play. So it's a fine line between keeping aggression and tempo."
Here are some things we learned from the Seahawks-Panthers divisional playoff game:
STEWART LOOKED STRONG: Jonathan Stewart missed three games with a foot injury to close the season, but looked rested and healthy on Sunday. He rambled 59 yards on the first play from scrimmage and ran for 106 yards on 19 carries and two touchdowns against the league's top-ranked rushing defense. The late-season rest might pay off for Stewart as the Panthers move deeper into the playoffs.
LYNCH A NON-FACTOR: Seahawks power back Marshawn Lynch returned from an eight-game absence following abdominal surgery but was never a factor. His first carry went for minus-3 yards during the Seahawks' terrible start that put them in a big hole, forcing them to go to a hurry-up tempo and throw the ball more. Lynch finished with six carries for 20 yards. "He didn't have much of an impact today because we couldn't really run our offense," center Patrick Lewis said. "We try to be a hard-nosed, running football team."
WILSON'S MOBILITY: While the Panthers managed to sack Wilson five times, the Seahawks quarterback kept plays alive with his mobility during Seattle's comeback bid. And that helped him throw for 255 yards and three touchdowns in the second half. "I thought he was phenomenal," Seahawks coach Pete Carroll said of Wilson's second half. "I don't know how much more you can expect of him."
KUECHLY A FACTOR: All-Pro linebacker Luke Kuechly played a huge role in Carolina's win, recording 11 tackles and returning an interception for a touchdown. Kuechly was quick to give credit to the defensive line, including tackle Kawann Short, who got pressure on Wilson. "They got a great push and a great pass rush and it makes my job easy," Kuechly said. "Those guys really get the credit, I was just able to get under and catch it."
DAVIS DOES IT AGAIN: Panthers linebacker Thomas Davis — the team's longest tenured player — came up with an onside kick to seal Carolina's win. Teammates have teased Davis relentlessly about being on the "hands team," but Davis had the last laugh on Sunday.
Like us on Facebook
Follow us on Twitter & Instagram